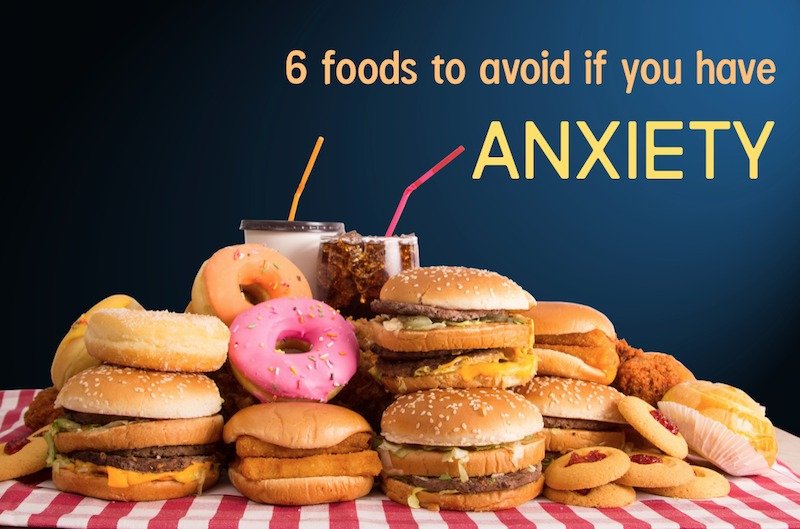 Many mental and emotional difficulties can be bettered (if not totally cured) by lifestyle changes, coping techniques, and proper nutrition. Often times, our poor food choices dig us into a deeper ditch mentally and emotionally. There are several foods to avoid if you have anxiety due to their effect on the gut.
What Does Food Have to Do with Anxiety?
When it comes to anxiety, many people who suffer from it are advised to begin medication, reduce stress in their life, exercise, and get more fresh air.
That's all helpful and should be taken into consideration when treating anxiety. But what we eat also contributes greatly to our mental health. If we're eating junk, our thoughts and emotions will follow. But if we're eating nourishing foods, our minds are fueled to process life events evenly and alertly.
Since the health of our guts has so much influence on our mental health, and since what we eat has so much influence on our gut health, there are certain foods to avoid if you have anxiety in order to decrease your symptoms and sufferings.
6 Foods to Avoid If You Have Anxiety
If you battle anxiety on any level, one of the first things many natural practitioners recommend is adjusting your diet. Take a look at what you eat throughout a day. If it helps, keep a food journal for an entire week to really gain insight into what kinds of food make up your diet. You may be eating healthy foods regularly, but if you're also consuming certain inflammation-producing foods, your anxiety can still flare up. Here are six major foods to avoid if you have anxiety.
1. Sugar
Drop the sugar and run away now. This isn't advice just for those battling anxiety; everyone would be wise to remove sugar from their diet. Sugar has been linked to autoimmune disease, obesity, cancer, and, you guessed it, mental illness.
Sugar is completely void of nutrients, so it adds nothing positive to your nutritional intake. On top of that, sugar actually puts more stress on the body. Sugar contributes to inflammation in the gut. Many people with sugar addictions (yes, it is an addiction) experience both physical and mental strains from consuming too much.
If sugar is a staple in your diet and you experience anxiety, try going a week without sugar and keep tabs on how you feel.
2. Gluten
Another inflammatory food, gluten is often the culprit behind mental and emotion stress. Gluten causes stress in the gut, which in turn triggers anxiety. Since so many foods in our modern diets contain high amounts of gluten (think pizza, burgers, fried foods, donuts, and sweets), most of us consume large amounts of gluten regularly. Additionally, gluten found in flours fill us up quickly, leaving little room for nourishing, real foods in our diets.
Remember, everyone's body is different, so you may be able to personal handle gluten without many side effects. But try eliminating gluten for a few weeks and pay attention to your mental health when it's removed from your diet.
3. Bad Fats
Not all fats are bad, but there are certainly some fats that have been championed as "heart healthy" over the last several decades that are in fact just the opposite. Any fat that's labeled "hydrogenated" or "partially-hydrogenated" should automatically be on your "no-no" list. Think peanut oil, canola oil, corn oil, margarine, and vegetable oil. These oils are highly processed, and when you consume these oils, they cause your cells to stiffen around the edges, making it difficult for your cells to communicate with one another. This can often lead to depression and anxiety.
4. Caffeine
I know. This one might be the hardest to give up. Many of us rely on our morning cup of coffee to get us going in the mornings, but the caffeine content may be contributing to anxiety symptoms. Caffeine depletes the body of B-Vitamins, which are vital to proper body and mind function. In fact, those suffering from depression or anxiety are often advised to supplement with B-Vitamins. Drinking too much caffeine can negate these efforts.
Caffeine also triggers the adrenalin effect, causing your heart to race and restricting blood flow to the brain. For someone already battling anxiety, this can contribute to panic attacks.
5. Processed Foods
Nearly all processed foods contain bad fats and oils that we mentioned above. Most of them also contain sugar. Strike two. MSG is a common ingredient in packed foods, which adds flavor to the bland ingredients and also overexcites your cells to the point of death. Grocery stores are filled with these foods that are mostly void of any nutrient content. So instead of filling up on real foods that will nourish our minds, we fill up on fake foods that deplete what nutrient storage we do have.
For one week, try shopping for food on the perimeter of the grocery store. This means only cooking with fresh fruits and vegetables and fresh, organic meats and dairy.
6. Artificial Sweeteners
This "fake sugar" is actually worse than the real, bad stuff. Artificial sweeteners put major strain on the nervous system, initiating havoc on your mental health. These sweeteners cause the neurons in your brain to fire too rapidly, leaving you feeling "crazy." Artificial sweeteners do to the nervous system exactly what someone with anxiety should be shying away from. If you're battling anxiety, you want to calm the nervous system as much as possible, not create extra stress and strain.
What Should You Eat to Help Anxiety?
Now that you know which foods to avoid if you have anxiety, what should you eat to help ease it? Healthy fats from avocado, coconut oil, and salmon. Consuming foods high in antioxidants like blueberries, real dark chocolate, and pecans can help boost the health of the gut. And the vitamins and minerals found in dark leafy greens and bright citrus fruits nourish the body and provide what it needs to function optimally, and that includes mental and emotional health.
Was this article helpful? Share with your friends on social media!