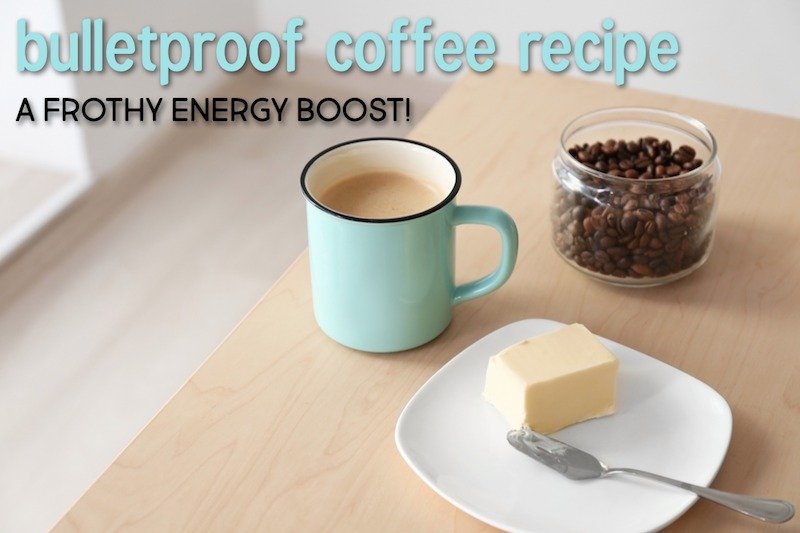 A pleasant surprise many people encounter when transitioning to eating a real food diet is that many of their beloved foods they've been avoiding are actually good for them. Saturated fat is no longer Enemy No. 1, and wine and coffee can actually benefit you. This bulletproof coffee recipe combines healthy fats like butter and coconut oil to make a delicious frothy coffee. So go ahead, enjoy that morning brew and get a huge boost of energy to start your day!
Coconut Oil (or MCT Oil) in Coffee?
Most people rely on their morning cup of coffee for the caffeine content. They need the boost of energy to "get moving" in the morning. But did you know you can gain an even better energy boost by adding coconut oil to your cup of coffee? Coconut oil is known to nourish the body and mind to improve focus and awareness. Just what you turn to your coffee for, right?
Another option besides coconut oil is using MCT oil. MCT oil is concentrated coconut oil; so same benefits, different consistency.
How to Make Frothy Coffee without Fancy Machines
Now, once you've brewed your coffee and assembled your add-ins, you're ready to make your own customized bulletproof coffee! But how do you get that wonderful froth that so many coffee shops are able to obtain? Sure, you can purchase an expensive and complicated machine that makes lattes for you; but really, there's an easier, more cost effective, and equally delicious way to create that foamy cup of coffee you long for upon rising.
One option is to blend everything together in a blender. This option is convenient and is what I use when I'm making a big batch of bulletproof coffee if we have guests in the morning (or if my husband and I deem it a two-cup-each day).
But if you're just brewing one or two cups and you're looking for a quick way to make things frothy, try using a handheld frother (I use this one). They are inexpensive, easy to use, and they create a really great foam.
Frothy Bulletproof Coffee Recipe
Ready to get brewing? This recipe makes one cup of bulletproof coffee. Feel free to double, triple, or quadruple this recipe. Additionally, adjust the ingredients to your preference and taste – the most fun part about bulletproof coffee is that you really get to personalize it!
Ingredients
Instructions
Pour coffee into a blender or a coffee cup.
Add the butter and coconut oil.
Blend with blender or handheld frother.
Enjoy!
Note
When you're first starting out with bulletproof coffee, begin with a small amount of butter and coconut oil/MCT oil and work your way up to the amount specified in the recipe. This will give your digestive system (which may be unfamiliar with these fats) a chance to adjust.
Extra Add-Ins
Want to add extra flavor and nutritional "umph" to your coffee? Try adding one or a combination of the following:
stevia or other natural sweetener
raw egg yolk (make sure it's from free range eggs)
a dash of vanilla extract
a teaspoon of cocoa powder to make a mocha
a dash of cinnamon
organic half and half
What's your favorite way to make a cup of joe? Let us know if the comments below!