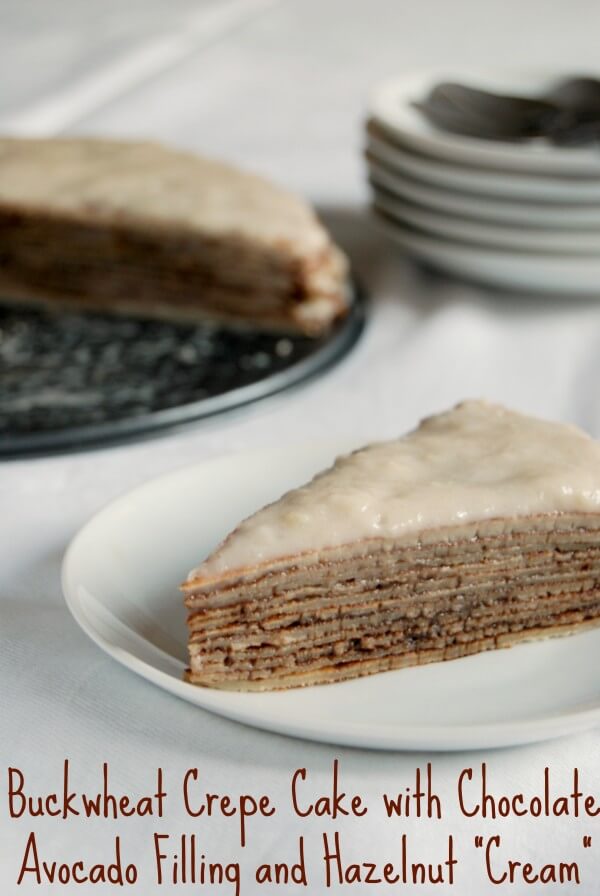 Crepe cake consists of multiple layers of thin crepes intermittent with smooth frosting. Oh yeah. This sweet gluten free crepe cake is made with buckwheat flour, eggs, honey, butter, and water kefir, and is filled with a chocolate avocado filling and hazelnut cream. What a perfect desert!
"Crepe cakes, in my opinion, are an excuse to eat more icing (make that "frosting," for my American friends).
Crepes layered with filling make for a moist and rich treat.
I'm normally a fast and easy baker: one bowl, done.
For my birthday, though, I wanted to make something a little more fancy even though it meant taking more time. Crepe cakes take time, but they aren't difficult.
I started with the idea of buckwheat crepes. Gluten-free and soaked, they provided the nutty flavour I wanted.
Next for the filling.
The first time I made the avocado based filling with carob, the second time with chocolate.
Both were delicious, though the carob paired with the nuttiness particularly well. Watch out for the size of the avocados, however.
Two avocados provided plenty of filling the first time, the second time the two avocados were small with huge pits, which is why in the photos, the filling is rather thin.
The hardest part was the topping. It had to be dairy-free, but whipping cream is my go to for cakes.
I'm not an icing type of girl.
I decided to continue the nutty theme for the topping with hazelnuts, thickening it with gelatin, adding maple syrup for a touch of sweetness. If you can eat dairy, however, go ahead and top with whipped cream.
Heaven on a plate.
The cake is not overly sweet, so if you want to indulge a sweet tooth, it's very adaptable to adding more sweetener of different kinds. For the crepes and cream, even stevia will work; for the filling it needs to have some body. Whole New Mom has a low-glycemic alternative to icing (powdered) sugar."