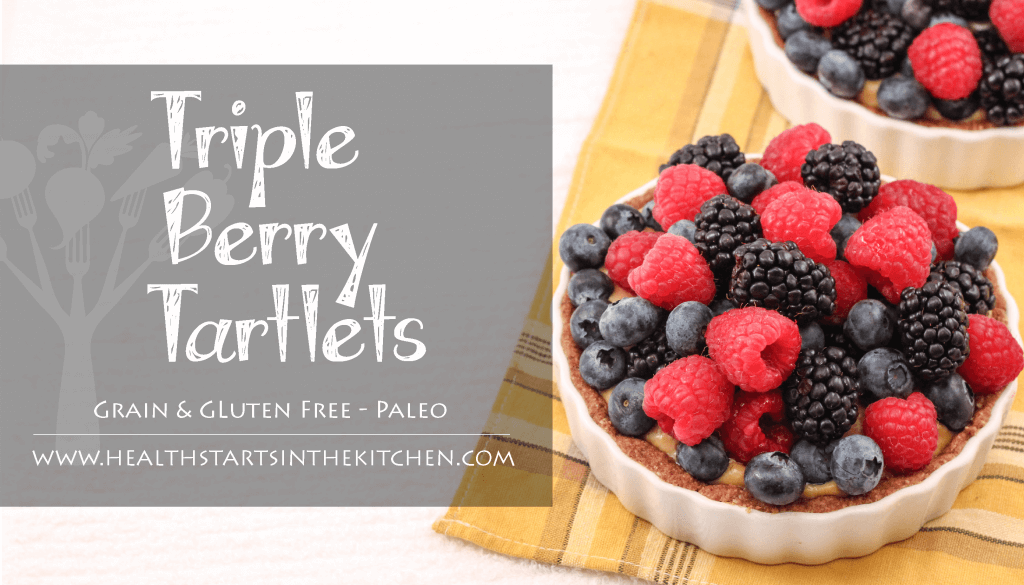 These fresh and tasty triple berry tartlets are made with a smooth pasty cream and are grain free, gluten free, and paleo-friendly! Perfect for individualized deserts!
"I was trying to come up with a paleo friendly, grain & dairy free dessert to make for my hubby's birthday. He doesn't get especially excited about desserts but does like berries and anything pudding-ish.
Then I found these cute individual (4-5 inch) tart pans and I just HAD to make him berry tartlets!
I got so stressed out making these tartlets, I'm not a baker and I get so nervous… Luckily they turned out AMAZING!
And don't let the looks of these deter you, they are actually really simple!
The crust is made in your food processor and trust me it will seem like it's not going to turn into a dough but it will, just follow my directions 
As a little surprise, after you bake your tart crusts and they are still hot – melt & spread dark chocolate in the bottom (spread using the back of a spoon).
When your chocolate lined tartlet crusts are cooling, you'll make your pastry cream. It will need to chill, but don't forget to press plastic wrap or parchment paper onto the surface of the pastry cream so that it doesn't get a thick skin on top of it.
Once your pastry cream and crusts are chilled, fill the crusts with the pastry cream and top with generous amounts of fresh berries.
This recipe will make 4, 4in tartlets – you'll need a small clamshell pack of each blueberries, raspberries & black berries.. Aren't these seriously some of the prettiest desserts??"