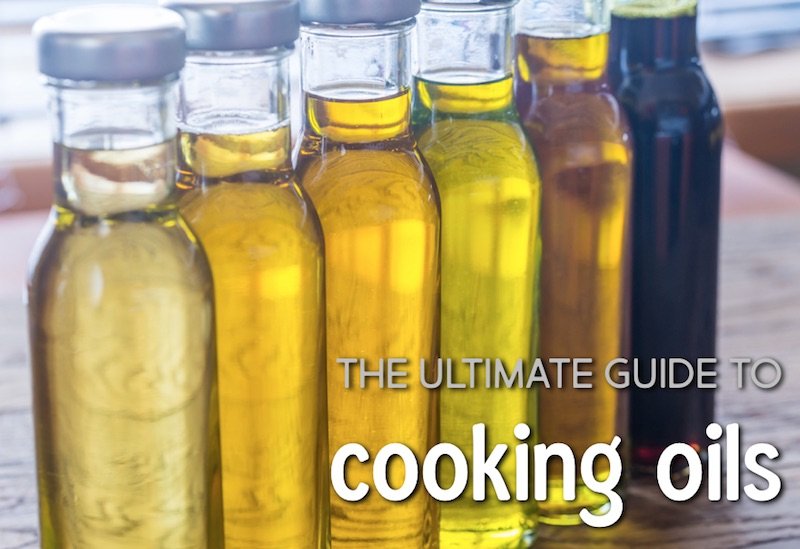 We approach cooking oils a bit unconventionally at our house. We use olive oil in our body scrubs, coconut oil in our lotions, and just yesterday, I saw my husband feeding our toddler a spoonful of grass-fed butter straight from the container 😉 It's no secret that we love healthy fats and use them as much in our personal care as we do our food. But when it comes to actually cooking with oils, it can be confusing as to which oil is best to use in which circumstances and with which food. This ultimate guide to cooking oils will remedy that problem for you, guiding you through the various types of healthy cooking oils and how to choose one that will make your recipe shine.
The Ultimate Guide to Cooking Oils
When it comes to best results and safety of various cooking oils, the biggest factor to consider is heating and cooking temperature. We'll use the term "smoke factor" when examining different oils. Smoke factor refers to the temperature at which the oil begins to smoke.
When an oil is heated beyond its smoke point, there are several potential dangers. One, you run the risk of starting a grease fire in your kitchen. Secondly, when an oil is heated past its smoke point it can become rancid, losing its health benefits and being filled with free radicals. On top of that, heating an oil past its smoke point makes your food taste burnt. Yuck.
Let's kick off this guide to cooking oils by taking a look at which oils work well at high smoke points.
Which Cooking Oils are Best for High Heat?
These oils are great go-to oils for cooking, sautéing, roasting, baking, frying, and grilling. These are brain-boosting oils full of antioxidants, vitamins, and healthy saturated fats. They maintain this nutritional value at medium and high temperatures.
Butter is generally considered safe to use on the stovetop up to 350 degrees. Just watch for smoke.
Avocado oil has an incredibly high smoke point and is great for roasting and searing.
Nut oils like walnut oil, almond oil, and macadamia oil are able to be used over low or medium heat. However, you'll want to watch closely for smoke. These oils are best used in salad dressings or recipe finishers.
High Smoke Points
Medium-Low Smoke Points
Which Cooking Oils are Not Safe for High Heat Cooking?
Extra virgin olive oil is a popular oil in health circles, but one should use caution when cooking with it. It has a smoke point of only 320 degrees and can become rancid quickly. Olive oil and extra virgin olive oil are best used in salad dressings (yum!) or as a finishing oil.
Fish oil and flax oil, while nutritionally beneficial, have an extremely low smoke point and shouldn't ever be used over heat. Save these for salads and finishing dishes.
What About Seed Oils?
A finally but important note in this guide to cooking oils. Seed oils are often used for cooking over high heat. Because they are refined with chemicals and bleaches, they can be produced at a lower cost and are therefore popular in restaurants and mainstream recipes. I can't discourage the use of these oils enough. They are completely void of nutritional value and are often processed from GMO-plants. They are already so rancid by the time the bottle hits the table.
These oils should be on your absolutely-never-use-for-any-cooking list:
Soybean oil
Canola oil
Grapeseed oil
Vegetable oil
Safflower oil
What's your favorite oil to use in cooking?