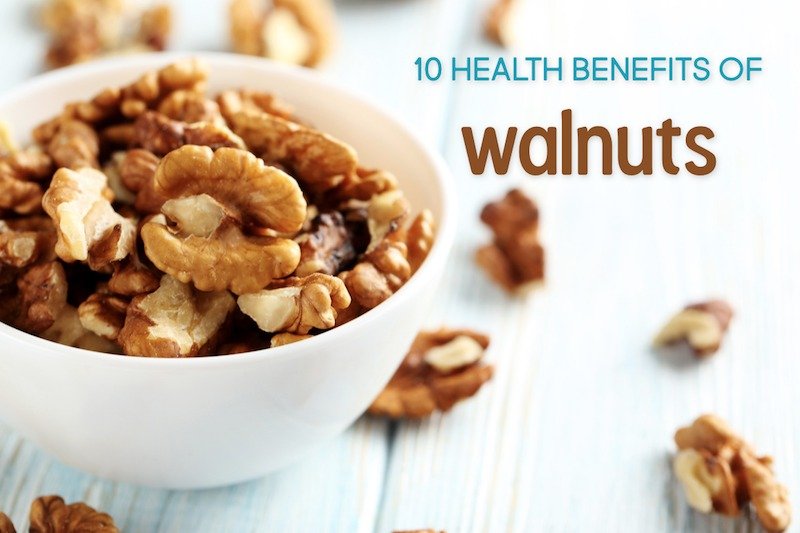 Nuts are a big hit in our house. They make a great pre-workout snack and they fill our kids' bellies like nothing else when they're going through a growth spurt. Walnuts, in particular, are rich in important healthy fats that nourish the body and mind. As a result, the health benefits of walnuts are something to pay attention to, and will make them even more delicious!
Walnuts Nutrition Facts
Walnuts are high in calories, coming in at 523 calories per cup, but its vitamin, fat, and mineral content pack an impressive punch.
Total fat – 80% DV
Magnesium – 31% DV
Protein – 24% DV
Fiber – 20%DV
Vitamin B-6 – 20% DV
Iron – 12% DV
Potassium – 10%DV
Calcium – 7% DV
What Makes Walnuts So Good for the Brain?
The high antioxidant and omega-3 fatty acid content are likely to credit with walnuts' ability to improve the brain. Ironically enough, have you ever noticed that walnuts look like a brain? Happy coincidence?
Either way, walnuts benefits for the mind are just one of the many health benefits of walnuts.
Health Benefits of Walnuts
So what can walnuts do for the health of your mind and body?
1. Boost Metabolism
The minerals found in walnuts like copper, manganese, potassium, iron, calcium, and magnesium help support metabolic activities including growth and development of muscles.
2. Fight Depression and Stress
More and more studies are demonstrating the deep connection between the health of the gut and the health of the mind. Many people treat their depression and anxiety with a real food diet. Walnuts are a wonderful addition to such diet for its fatty acid content. These fats allow the cells in the brain to communicate clearly, promoting the transmission of "happy hormones" like dopamine and serotonin.
3. Improve Heart Health
Walnuts promote a healthy lipid supply, and when combined with its omega-3 fatty acids and amino acids, can help seriously reduce risk of coronary heart disease.
4. Lower Risk of Diabetes
The dietary fat in walnuts can improve the metabolic parameters in those with Type 2 diabetes. Those who regularly consume walnuts saw significant reductions in fasting insulin.
5. Support Fertility and Babies In Utero
Research has found that pregnant women who consume fatty acids reduce their unborn baby's risk of developing allergies. The polyunsaturated fats in walnuts also help develop the baby's gut health.
Additionally, the minerals and vitamins in walnuts help keep mom and baby's levels up during gestation.
Walnuts may also benefit male fertility. Studies have shown that men who eat about a half a cup of walnuts per day have improved sperm quantity and quality.
6. Aid in Weight Loss
Because of its high calorie content, you might think eating walnuts would cause weight gain. But studies have shown that those who include a small amount of nuts into their diet lose weight faster than those who don't. This could be because the protein and fat in walnuts make them a filling snack, while the compounds in walnuts burn fat.
7. Boost Brain Health and Memory
Because of the aforementioned health benefits of walnuts in relation to the brain, walnuts have been shown to help prevent and even reduce diseases of the brain like Alzheimer's and dementia.
8. Help Fight Cancer
The antioxidants contained in walnuts are anti-inflammatory, which helps reduce the risk of cancer and even fights cancer cells after they've already formed.
9. Promote Quality Sleep
Walnuts contain melatonin, a compound that regulates the cycle of light and dark in the body. Increasing amounts of melatonin helps the body relax at night and fall into a deeper sleep.
10. Support Hair Growth
Biotin is present in walnuts, which is responsible for promoting healthy hair, skin, and nail growth. Biotin can even keep hair from falling out.
How to Eat Walnuts
Walnuts make a tasty snack on their own, especially when slightly toasted. But if you're not a fan of the taste of them plain, or if you're looking to incorporate them into meals, try these recipes:
Do you like walnuts? What's your favorite way to eat them?