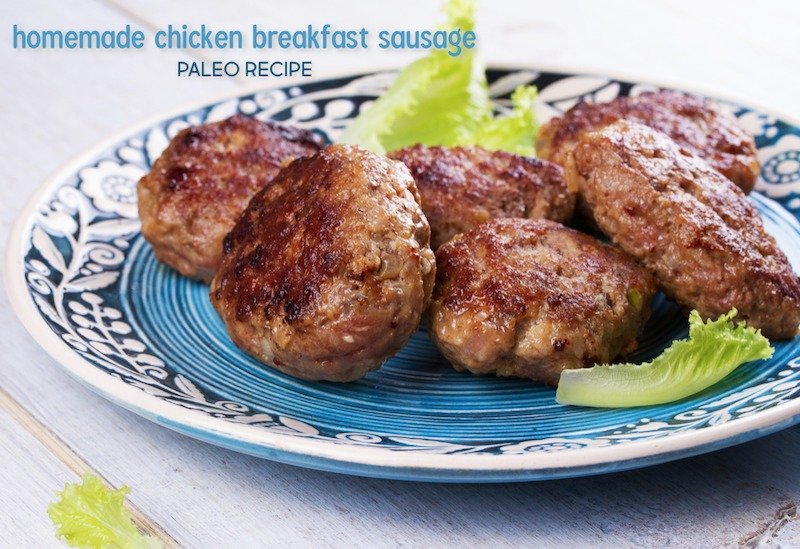 This healthy chicken breakfast sausage is sure to please both kids and adults alike. Made with sweet apples and juicy onions, it is complex in flavor but simple in the cooking process. It is paleo-compliant and only uses real food ingredients. We like to serve it alongside blueberry pancakes or, if we're in a hurry, with simple over-easy or scrambled eggs.
A Leaner Breakfast Sausage
While we enjoy a good homemade pork breakfast sausage, sometimes it's nicer to have a leaner option. Chicken is lower in calories, and while we don't think calories are everything, this leaner meat might be a better choice for those monitoring their caloric intake for whatever reason.
Now, you might be thinking that chicken breakfast sausage, precisely because it is lean, might be dry and dull-tasting. On the contrary, the apples and onions in this recipe provide a delightful juiciness, while the spices amp up the flavor of the chicken.
Chicken Breakfast Sausage Recipe
Enhanced with flavorful spices and cooked in coconut oil, this chicken breakfast sausage is not only a warm and delicious way to start the day, but it is also good for you!
Perhaps the best part is that this sausage can be prepped ahead and frozen to be enjoyed conveniently throughout the week.
This recipe makes about 30 sausage patties.
Ingredients
Instructions
Peel and core the apples (leave skins on). Finely dice the apples, onion, and garlic.
Melt half the coconut oil in a large skillet over medium heat.
Cook the apples and onion for about 5 minutes or until tender. Add the garlic, stir, and cook for another minute.
Remove from the heat and let the mixture cool.
In a large bowl, combine the apple, onion, and garlic mixture with the ground chicken, herbs and spices, and apple cider vinegar. Do not over-mix.
Scoop the mixture into 3 tbsp sized balls, then flatten (like if you were making hamburgers).
Heat a large skillet over medium-high heat and grease with coconut oil. Add the sausage patties and cook for about 4 minutes, or until they become golden brown. Flip and cook for another 3-4 minutes until sausage is cooked all the way through. Drain sausages on a paper towel. Repeat with the remainder of the mixture.
Serve and enjoy!
Notes
Don't skip the apple cider vinegar. It primarily serves as a meat tenderizer in this recipe, which, aforementioned, is important when working with leaner types of meat. I know it may seem like apple cider vinegar would be too strong for this recipe, but the cooking process mellows out the flavor and it becomes a perfect addition.
While the sausage is cooking, do not press down on the sausages to flatten them. I know it's tempting! But this will release all their juices and leave you with tough patties.
To reheat after freezing, place the chicken breakfast sausage in a skillet with a small amount of water. Cover and cook over medium heat for a few minutes, flipping halfway through, until heated completely.
What's your favorite breakfast sausage? Let us know in the comments!