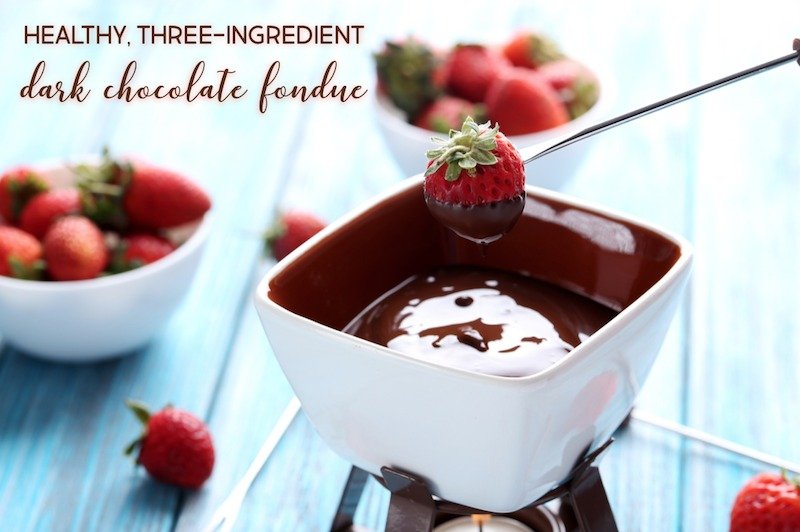 Sometimes, there's nothing like eating food covered in chocolate. There is something that feels even more special about melted chocolate and an array of tasty treats to enjoy with it. The best part? This healthy three-ingredient dark chocolate fondue recipe seems much more complex than it really is, so if you're hosting, you'll receive style points with your guests!
A Healthy Dark Chocolate Fondue?
If you're new to a real food lifestyle, it may seem impossible to you that a dessert this delicious can actually be healthy. But this is just one tasty example of how nutritious food is just better in all ways. The coconut milk is a fantastic source of healthy, brain-boosting fats. And, thankfully, dark chocolate boasts some impressive benefits as well.
Benefits of Dark Chocolate
As a blessing from the heavens, dark chocolate is rich in minerals and antioxidants. Many doctors recommend eating a small piece of quality dark chocolate (72% or more) daily. Here are some of the ways dark chocolate can support your health.
High in antioxidants
Rich in potassium, copper, magnesium, and iron
May reduce blood pressure
Improves mood
Helps control blood sugar
Increases blood flow to the brain
May reduce the risk of stroke
Supports healthy sleep
Serves as an aphrodisiac
Two-Ingredient Dark Chocolate Fondue Recipe
The next time you want a decadent treat to end a long week, or you're entertaining friends, try this dark chocolate fondue recipe. It is so easy to make yet feels fancy and fun!
Ingredients
Instructions
Melt the chocolate slowly in a double boiler.
Add a small pinch of sea salt and stir to combine.
Stir in the coconut milk. You can add more or less coconut milk depending on your desired consistency.
Enjoy with your favorite dippers! If you have a fondue pot (like this one), pour the chocolate into the serving bowl to keep it melted without burning.
A Note for Paleo Dark Chocolate Fondue
To keep this recipe paleo, use a paleo dark chocolate sweetened with stevia.
Best Fondue Dippers
This is perhaps the most fun part – the dipping! This is where each person gets to exercise their creativity and everyone really gets to make this their own treat. Need some ideas for chocolate vessels?
Berries
Apples
Orange slices
Bananas
Nuts
Have you ever made your own dark chocolate fondue? What are your favorite dippers? Let us know in the comments below 🙂