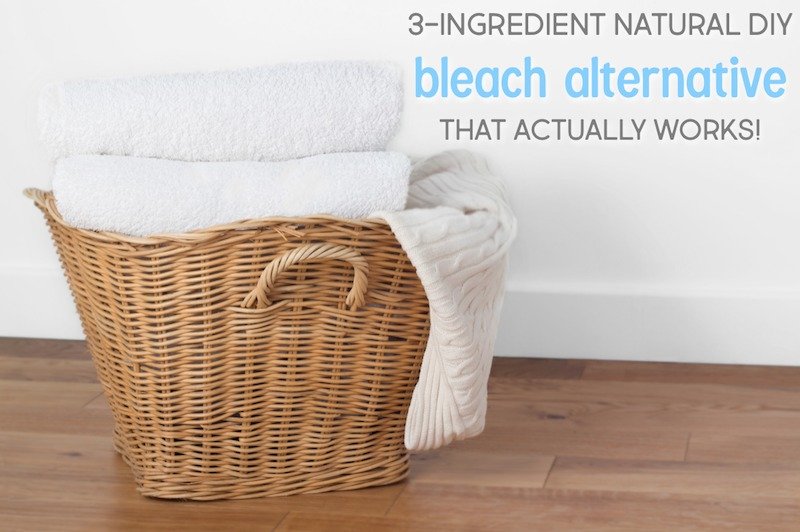 I love the smell, feel, and look of a clean house. Granted, since children entered our lives, our house hasn't been the kind of clean that I would prefer, but that's part of the fun of raising little ones 😉 There's something about the sense of accomplishment when the house is tidy enough, the laundry is moving and being folded, and the kitchen is clean that just does wonders for my mental and emotional health. This good feeling has increased even more since we ditched commercial cleaning products in favor of natural, gentler, more effective homemade cleaning products like all-purpose cleaner, glass cleaner for our windows, and stain remover for our clothes. Another fantastic substitute is this natural homemade bleach alternative.
The Problem with Chlorine Bleach
I used to love using bleach for everything from floors to bathtubs to brighten my whites. Now, the smell makes my eyes water and my stomach turn.
Seriously, one whiff of chlorine bleach provides enough evidence as to why it's bad for us. There's no telling how many brain cells are killed when working with chlorine bleach. If you're around bleach for an extended period of time (meaning, even under an hour), you can actually feel your lungs hurt and your nose and eyes burn. Chlorine bleach is laden with synthetic chemicals that are harmful to the human body.
If a cleaning product requires gloves to be worn when handling, why are we using it on counters that touch our food, tubs that hold our vulnerable bodies, or clothes that rest on our bodies for long periods of time?
Thankfully, a natural homemade version can be made with just three ingredients!
What Works as a Homemade Bleach Alternative?
Yep, you read that right. A natural bleach alternative can be made with only three ingredients: hot water, hydrogen peroxide, and washing soda. Hydrogen peroxide is inexpensive and works well when it comes to deep cleaning. Washing soda, or sodium carbonate, bears a unique chemical composition that makes it exceptional from washing, degreasing, and brightening. It's also inexpensive, making this DIY bleach recipe a financial competitor with commercial chlorine bleach.
Natural Homemade Bleach Alternative Recipe
Uh oh! You spilled coffee on your white pants this morning while driving your kids to school. The dog knocked over your glass of red and it's all over your new white sofa slip cover. Your child had an awesome slide into home base to win the game, and those fresh white baseball pants bear the victorious proof.
It's time to break out the homemade bleach.
Ingredients
1 gallon hot water (not boiling, but hot enough to dissolve the washing soda)
1/2 cup hydrogine peroxide
1/4 cup washing soda
Instructions
Fill a bucket with hot water.
Add the hydrogen peroxide and washing soda. Stir until the washing soda dissolves.
Place the garment into the bucket, submerge, and swish around a bit. Let sit for at least an hour, and up to a few hours, depending on the severity of the discoloration/stain.
After soaking, wash the garment in a washing machine with homemade laundry detergent as normal.
Notes
This is a one-use-at-a-time recipe. I don't keep this mixture stored. It's so quick and simple to make, and since I don't use it regularly (like every day or even once a week), it's not worth it to set aside pre-measured and stored washing soda or hydrogen peroxide. So I just make it as needed.
Depending on the size of your garment or how many garments you're treating, you may need to double or triple this recipe.
Have you made your own laundry products before? Tell us about your experience in the comments!