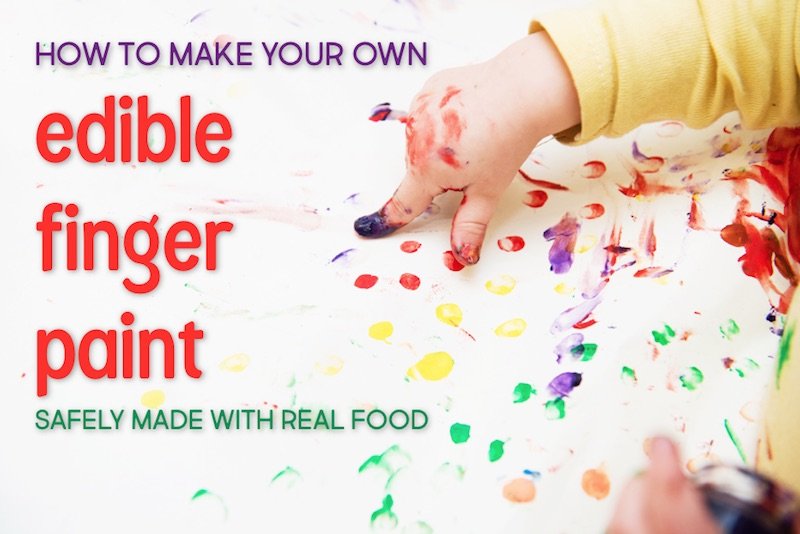 I love playing with my kids. There is something so fun, enchanting, and humbling about watching them discover. I adore witnessing them become immersed in their imagination. As a parent, it is so joyful to be up to my elbows in clay, dirt, and water alongside my children as they learn and expand their horizons. That's why we love making our own toys and play materials like dye for projects like Easter eggs and play dough. This homemade edible finger paint ranks high on our list. It's an easy project to throw together in the desperation of cabin fever or a rainy day. Made with food and natural ingredients, it's also edible, which is super helpful if you have fast, little hands ready to taste test everything they encounter! 😉
Homemade Edible Finger Paint Recipe
Because I wanted even my younger children to be able to explore with finger paint in a safe way, I set out to find a homemade edible finger paint concoction that would satisfy their curiosity and my desire to avoid a call to poison control. I provide the basic instructions here, and further down you can read about achieving the various colors (that's the fun part!).
Ingredients
Instructions
Place the yogurt in a small bowl. Add powder of choice one teaspoon at a time and stir well to combine. Continue to add the powdered spice until desired shade is achieved. If using, add honey and stir to combine.
Store in an air tight container in the refrigerator for up to a week.
Edible Finger Paint Color Options
Not only is the final product fun for the kids, but the process of making the homemade edible finger paint is an adventurous and educational activity. Bring the kids in the kitchen with you and, according to their developmental stage, invite them into the creative process. Let them choose which colors they want to make. Let them pour the ingredients into the bowl. Older kids can even mix everything together. This can even become a lesson in primary colors, secondary colors, and intermediate colors.
Here's how to achieve each color using natural, edible ingredients:
Green
I use spirulina powder. I found using just two teaspoons of spirulina powder yielded a rich green color.
Yellow
I use everyone's favorite healthy yellow spice – turmeric! I used about a tablespoon and a half to get a rich yellow color. (Remember, turmeric stains surfaces and hands. It comes off with a good scrubbing, but use with caution.)
Red
A nice red (or pink) shade is easily achieved with several teaspoons of beet root powder.
Want an Even Simpler Option?
Using the ratios above, use natural food coloring instead of powdered spices. Just add one drop at a time until you reach the desired shade.
Do your kids like to finger paint?