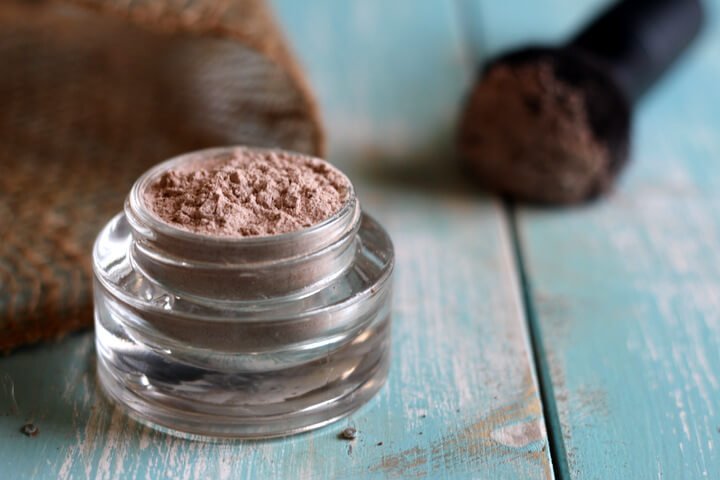 As word continues to spread about the various chemicals used in most makeup products (even the "natural" ones), more and more women are looking for alternative options. As with most things, by making your own makeup, you are able to control both the shades and tones of your products and the quality of ingredients. This homemade foundation powder is simply made with arrowroot powder and cocoa powder, with additional options based on your skin tone. If you've ever thought about making your own makeup, now is the time and this is the recipe!
"Pssst ~ Mineral makeup may accelerate aging
It's true. Many cosmetics, especially mineral-based products, use nano-particles to "protect" skin from the suns rays. The theory goes that since  regular-sized particles of zinc and titanium are a non-toxic way to prevent skin from burning, smaller particles can do the same without creating the "lifeguard nose" effect. Essentially, they absorb and/or reflect light differently so that your skin doesn't turn chalky white after application.
Unfortunately, new research indicates that nanoparticles react differently with skin and may accelerate aging, cause DNA damage, and increase the production of free radicals associated with cancer. (Source 1: Many "Healthy" Sunscreens May Accelerate Aging, Source 2, Source 3, Source 4,)
For that reason, and a few others, I prefer to use whole, non-nano sized materials in my foundation powder. You can buy non-nano powder here, but it's pricey.
This homemade version . . .
Costs roughly $0.40 per ounce and provides a soft, translucent finish. Though the majority of your tint will come from cocoa powder, you can easily adjust color tones to complement your skin type: Cinnamon for warmer tones, bentonite clay for cooler tones. French green clay can also be added to soften reddish hues.
(Not up for making your own yet? This mineral-based powder does not use nanoparticles)"