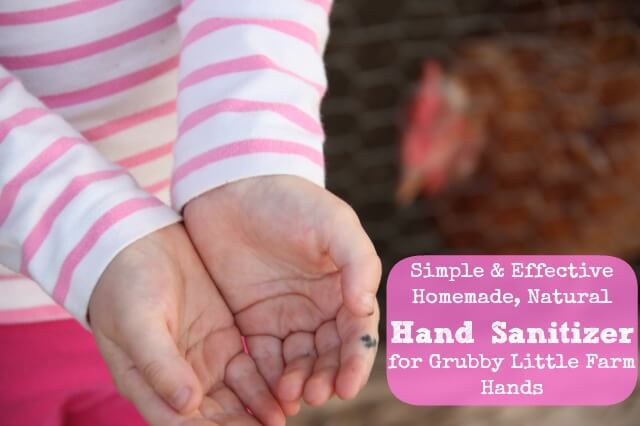 We know that the standard store-bought hand sanitizers tend to do more harm than good, as they are loaded with chemicals. But this DIY hand sanitizer is all-natural, chemical-free, easy to make, and is super convenient.
"Let me start this off by saying that I am NOT a germaphobe (No offense to the germaphobes out there! More power to you!) and I did not start making homemade hand sanitizer to protect us from every little germ out there in the world.
I routinely eat things that have fallen on the floor and clean chicken coops without gloves on. I have actually wiped my kid's snotty nose with the bottom of my t-shirt and I don't use the little paper toilet seat cover in public bathrooms. *gasp!*
However, I do still get grossed out by things like my son sticking his hand in a public toilet at Target or my daughter picking chicken poop up off the ground and squishing it between her fingers. *gag*  So there are times when a little extra hand scrubbing is necessary. But what about when you aren't at home and the Target is out of soap and your son REALLY DID just stick his hand in the public toilet before you could grab him. Well, my friends, that's when a little bottle of homemade hand sanitizer in your bag can be a blessing. (And of course it's homemade because I'm natural and DIY like that, dontcha know?)
Homemade Hand Sanitizer
Ingredients
1/4 cup pure aloe vera gel (You can buy it here).
1 tbsp witch hazel (You can buy it here)"