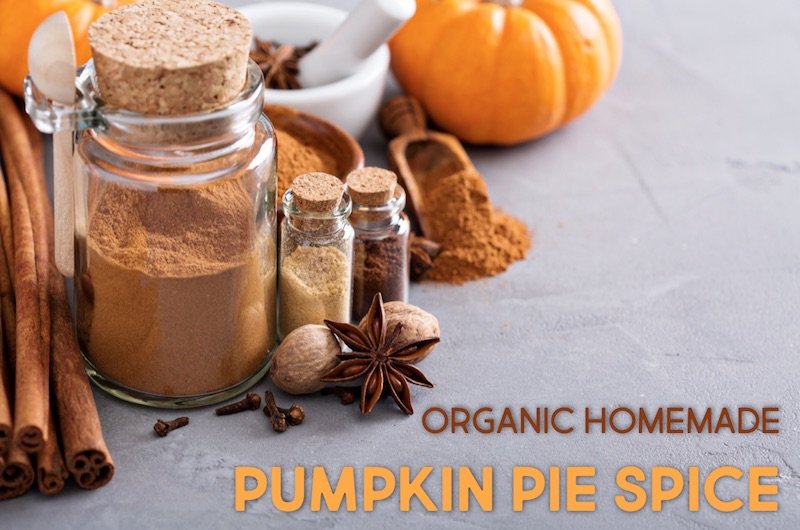 Every year, once September arrives, the country seems to contract fall-fever. Pinterest boards overflow with images of warm soups and pumpkin-flavored delights. It doesn't take much convincing for me to join the fall fan club, and I remain there happily until Christmas bells ring. The fire is fueled when my husband comes home in an equal pumpkin craze and suggests, "Let's make pumpkin pancakes tomorrow … and pumpkin scones … and pumpkin soup … and pumpkin muffins!" I happily whip up a big batch of my homemade pumpkin pie spice and get cooking.
Homemade Pumpkin Pie Spice Recipe
This homemade pumpkin pie spice can be used for all your favorite pumpkin creations and is super simple to throw together! It also saves money. Many of these spices are only used on occasion, and mostly during the holiday season. Unfortunately, this often means that the jars of ground cloves and allspice sit in the back of our spice cabinet for the other 9 months. By making a larger batch of homemade pumpkin pie spice, we're more likely to use the spices and avoid waste!
The recipe fills close to an 8 oz jar. We bake frequently during the holidays and this usually gets us through. Divide or multiply according to your preference and usage. The ingredient amounts can also be adjusting as yo used fit and according to your particular taste.
Ingredients
Instructions
Place all the ingredients in a mason jar. Shake well to combine.
Shake well before each use.
Use in any pumpkin recipe (check out the ones below!). I also like to simply mix 1/2 tsp into a cup of coffee with coconut oil or butter.
How to Use Pumpkin Pie Spice
Luckily, there are healthy and truly all-natural pumpkin recipes out there that allows us to enjoy the flavor of the season.
Do you like making pumpkin treats in the fall? What's your favorite?