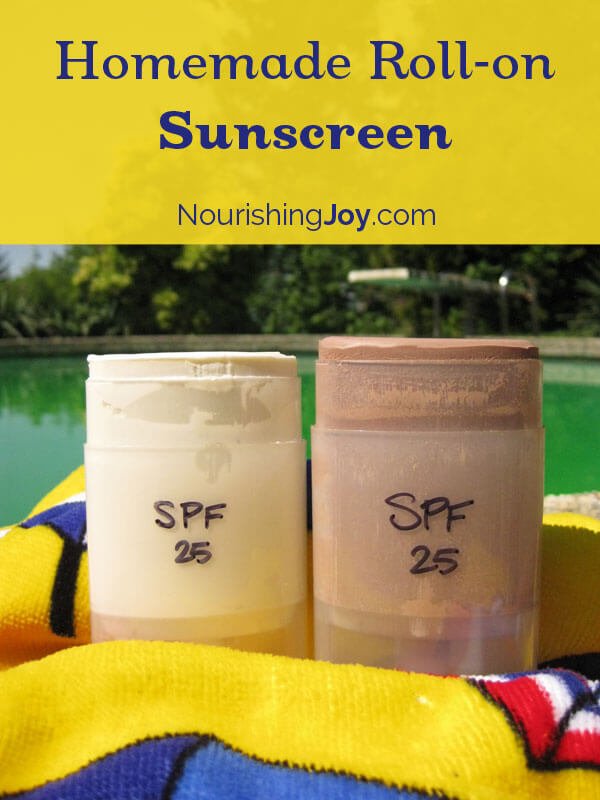 It's that time of year! The glorious time when we find ourselves outside more soaking up the sunshine and enjoying the beauty of summer. With this extended time spent outside comes the necessity for some protection from too much sun (although you need sun exposure!). Because of the added toxic ingredients, most store-bought sunscreens cause more harm than good. Making your own sunscreen is an safe, easy, and affordable way to ensure your skin's health while you enjoy the outdoors. This homemade roll-on sunscreen is made with natural ingredients like shea butter, beeswax, and coconut oil and is incredibly convenient!
"It's summer, and if your family is anything like mine, your days are spent outside. Whether it's work, play, or just lounging in the pleasant weather, we are in the sun, shade, or water pretty much constantly.
So needless to say, our skin gets a lot of sun exposure and of course, sunscreen always feels like a contentious issue: how do we balance protecting our children's skin from long-term effects of sun damage without blocking out Vitamin D and without slathering products laden with toxic chemicals on their skin?
I wrote last week about my recommendations for sunscreens to purchase, but today I want to share my recipe for DIY homemade sunscreen.
This is a homemade roll-on sunscreen stick, and I choose to make our homemade sunscreen this way because it's easier to slather on, it's not as messy (or greasy) as the homemade sunscreen lotions I used to make, and it's easier to toss in a bag when you're headed out.
But before we get to the very simple recipe, let's talk about two very important aspects of sunscreen: SPF and zinc oxide."