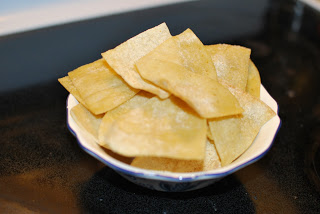 Tortilla chips are a favorite partner of tasty dips like salsa and guacamole. These homemade tortilla chips are gluten-free and easy to make! All that's required are corn tortillas, olive oil, and salt. They are crispy and guilt-free, and they are delicious with a dip or by themselves!
"I'm glad I had something easy for yesterday. It was $1.50 Taco Tuesday at Rubio's and I had planned on getting us Tacos. So I made homemade corn tortilla chips to go with them. I don't think they qualify as "from scratch" because I didn't make the corn tortillas. But….they are homemade! They were so so easy.
Ingredients in corn tortillas are all natural and gluten free. Plus there is only a few ingredients.
I think this is cheaper than buying Tortilla chips too! And they were very yummy!! I used about 20 tortillas.
Gluten Free!!
Cut them into quarters.
Laid them on a baking sheet. (You aren't suppose to crowd them. But I'm kind of a rebel.)
Brush or spray olive oil on both sides, then salt them. Maybe some lime if you have it.
Bake for 25ish minuets (mine took about 30 to get crispy, if you have less on one pan it will only take about 10-15 mins)."