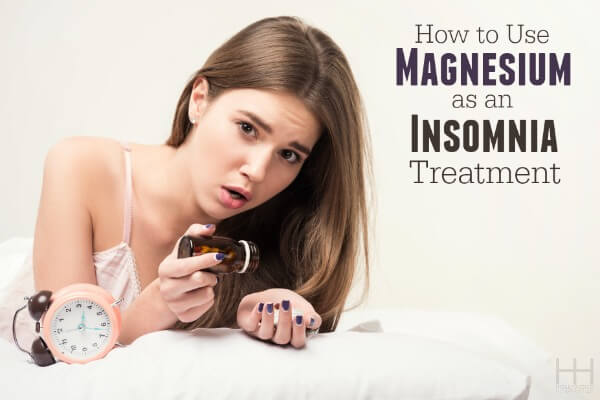 Sleep. We all want more of it, and most of us don't get enough. It's one the most vital components in our overall health that is consistently ignored or undervalued. In our efforts to enhance the quality and quantity of our sleep, we have changed our diets to maximize our rest, discovered the benefits of homemade sleep cream, avoid blue lights at night, and do our best to get to bed at a decent time. For those who truly struggle falling and staying asleep, bed time can seem like an even greater daunting task. It can leave one feeling discouraged and defeated. Thankfully, there are plenty of natural remedies for decreasing the effects of insomnia. This post details how to use magnesium to treat insomnia.
"When it comes to insomnia treatment, you should always start with your lifestyle. Get enough exercise, reduce stress from your life, keep a regular schedule, stop drinking so much coffee, and you should be on your path to a healthy sleep habits. But, as a mother of 3 and business owner, I know that we can all use a little bit of help getting to sleep sometimes. That is why I turn to magnesium as an insomnia treatment.
How Magnesium Works as an Insomnia Treatment
I touched a bit on this topic in my article about why I choose magnesium over melatonin for inducing sleep. Unlike conventional pharmaceutical insomnia treatments which alter your brain chemistry to induce sleepiness (definitely not something I recommend!), magnesium works by helping you relax. Considering that two of the most common causes of insomnia are stress and anxiety, relaxation is something we can definitely use on sleepless nights! Magnesium can also help fight depression, which is another leading cause of insomnia.
So how does magnesium help us relax?
Magnesium is responsible for over 300 enzyme reactions in your body, particularly in your bones, muscles, and brain. As far as insomnia treatment goes, we are interested in magnesium's role in your muscles and brain (though bone health is obviously important too).
How Magnesium Helps Your Nervous System
You might recall that your nerve cells "talk" to each other with electrical signals. Because there are gaps between your nerve cells (synapses), your nerves rely on chemicals to transmit signals across the gaps. Some of the chemicals hanging out in the gaps help signals cross the gap, whereas other chemicals stop signals from crossing. Magnesium is one of the chemicals which stops signals from crossing nerve synapses."