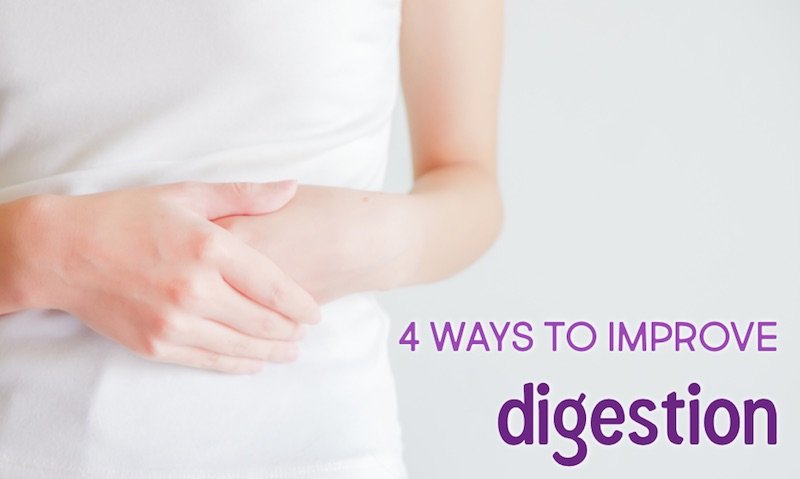 Years ago, we cleaned up our eating. We exchanged fake, processed food for real, nourishing food. We have never felt better. We love our healthy fats and probiotics, and work hard to ensure we make wise eating choices on a day to day basis. Along with what we eat, we have become intentional about how we eat. No matter how nutritious a given food is, if we don't take proper measures to eat and digest it well, it still won't sit well with us. Here are four simple ways to improve digestion so that you can truly experience the benefits of your food!
Natural Ways to Improve Digestion
Digestion starts with eating correctly and is promoted throughout the day based on other lifestyle factors. These four ways to improve digestion are foundational, and if you get these right, you'll notice a great difference in how you feel and function.
1. Slow Down
Correct digestion is paramount for nutrient absorption. When we fail to digest our food properly, we fail to absorb the enzymes and other nutrients contained in foods that are important for cellular health. We can promote optimal digestion even before we begin eating. Before you consume a meal or a snack, take a breath. Be attentive to your food. Look at it, smell it. Let yourself feel hungry for a minute longer. Digestion actually starts in your mind, so by experiencing your food through your other senses first, your brain receives signals that it's time to eat. Your body relaxes. Your mouth fills with saliva.
This production of saliva is crucial for proper digestion. Produced in salivary glands, saliva is 98% water, but it contains many important substances, including electrolytes, mucus, antibacterial compounds and various enzymes. The digestive functions of saliva include moistening food, and helping to create a food bolus, so it can be swallowed easily. Saliva contains the enzyme amylase that breaks some starches down into maltose and dextrin. Thus, digestion of food occurs within the mouth, even before food reaches the stomach. (source)
By slowing down when we eat, and intentionally chewing our food adequately, we allow for the proper production of saliva and start to promote healthy digestions even before we swallow our food.
2. Consume Probiotics
Another way to improve digestion is by increasing your consumption of probiotics. Probiotics are the good bacteria located in our guts. When the good bacteria in our gut is out of balance with the bad bacteria, digestive issues can occur.
You can increase your probity intake with a probiotic supplement. While we don't take many supplements in our family – and we are convinced that supplements will fall flat without a nutrient-dense diet – a good quality probiotic is one we consistently take. Not only do these probiotics help improve digestion naturally, but they also boost the immune system and help keep us healthy, especially during cold and flu season. Win-win!
In addition to a probiotic supplement, eating probiotic-rich foods can greatly improve digestion. Try adding some of these fermented foods and drinks to your meal and snack rotation:
3. Move, Move, Move
Moving regularly throughout the day does wonders for our digestion. It literally keeps things moving. In past centuries, this was not even a thought, as most people moved consistently throughout the day. But in our modern world, we have become more sedentary in our jobs and our habits, so it takes an extra dose of intention to move enough to keep our digestive systems functioning properly. Here are some exercises you can squeeze in your day to reduce the harmful effects of sitting too much.
4. Correct Your Bathroom Posture
Finally, we can assist our body in its, ahem, last step. Just as we participate in our digestive system's work before we even start eating, we participate to the end. Did you know that the typical way we go to the bathroom is highly flawed? We aren't meant to have a bowl movement in a sitting position; rather, squatting is the ideal position. But since most of our modern toilets are not designed for this kind of position, we use a Squatty Potty to achieve the ideal position and in order to aid our digestive systems.
Are you a slow eater or a fast eater? What are some ways you can be more intentional about how you eat?