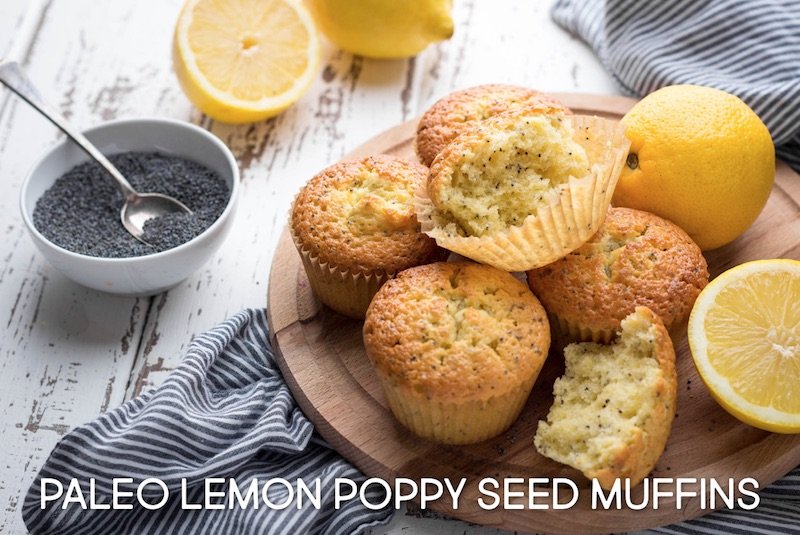 I'm always on the lookout for quick, convenient, and healthy snacks for both myself and my kids. They're always hungry in the afternoons. And sometimes we have to rush out the door for a commitment in the morning and I don't have time to make a full breakfast. So I like to keep a stock of real food muffins on hand. They freeze well and the variations are endless. They travel well and, when made with healthy ingredients, are a filling snack and a not-too-sweet treat. These paleo lemon poppy seed muffins are a family favorite. Not only do they make a fresh and filling healthy snack, they're a fantastic addition to a Sunday brunch since they feel fancy but are easy to make.
Paleo Lemon Poppy Seed Muffins Recipe
Made with almond and coconut flours, honey, and coconut oil, these gluten-free lemon poppy seed muffins are a terrific source of healthy fats. And let's face it – they're scrumptious. These would make a great breakfast on-the-go or a terrific snack for a midday boost. This recipe makes 12 muffins.
Ingredients
2 cups coconut flour
1 cup almond flour
1 tsp baking soda
1/2 tsp sea salt
1 cup coconut oil, liquified
2/3 cup raw honey, liquified
5 eggs
3/4 cup coconut milk (full fat)
2 tsp pure lemon extract
2 tsp fresh lemon zest
1 heaping Tbsp poppy seeds
Instructions
Preheat oven to 350 degrees. Line muffin tin with muffin liners.
In a large bowl, sift together the coconut flour, almond flour, baking soda, and sea salt.Mix well until combined.
Pour honey and coconut oil into blender and blend until combined. You can also use an immersion blender for this step.
Then, add the eggs one at a time, mixing each one into the oil and honey mixture.
Add the remaining ingredients and mix well.
Slowly add the wet ingredients to the dry ingredients, stirring frequently to ensure even distribution.
Fill muffin liners 3/4 full and bake for 15-20 minutes or until set and golden brown. Let cool before removing and serving.
Other Real Food and Paleo Muffin Recipes
If you like a healthier version of muffins like these paleo lemon poppy seed muffins, here are some other variations you can try!
Have you ever made paleo muffins? Would you try these?