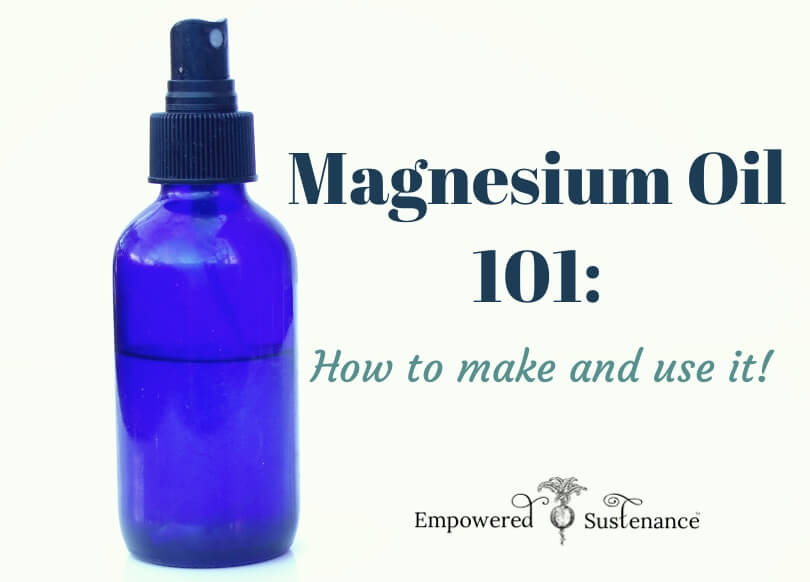 Heard of magnesium and its numerous benefits? Wondering how to incorporate more magnesium into your body? This post from Lauren explains what magnesium is, why it is such a great form of magnesium, and includes a recipe for magnesium.
"Nutrients applied to the skin are efficiently absorbed into the bloodstream. That is why we shouldn't put anything on our skin that we don't want coursing through our blood. And that is also why this homemade magnesium oil works so well: it's a supplement we take through the skin.
What is magnesium oil?
Actually, it's not an oil. It feels slippery like oil, but it is a solution of magnesium chloride flakes in water. (I recommend Ancient Minerals magnesium flakes.) You can purchase magnesium oil, but making it yourself provides a WAY more economical option. It provides the benefits of magnesium supplementation in an absorbable form.
Additionally, the body will only take what it needs through the skin. Whereas taking some supplements orally can cause an over-abundance in the body, this is not usually the case for transdermal therapy.
Benefits of magnesium oil
Magnesium deficiency is widespread and the use of magnesium oil can restore healthy magnesium levels in your body. Dr. Sircus, a leading magnesium researcher and author of Transdermal Magnesium Therapy, says
After oxygen, water, and basic food, magnesium may be the most important element needed by our bodies, vitally important yet hardly known. It is more important than calcium, potassium or sodium and regulates all three of them. Millions suffer daily from magnesium deficiency without even knowing it. (Read more in his article on magnesium deficiency.)
Another interesting connection Dr. Sircus makes is how excessive thirst often signals magnesium deficiency and mineral imbalance."