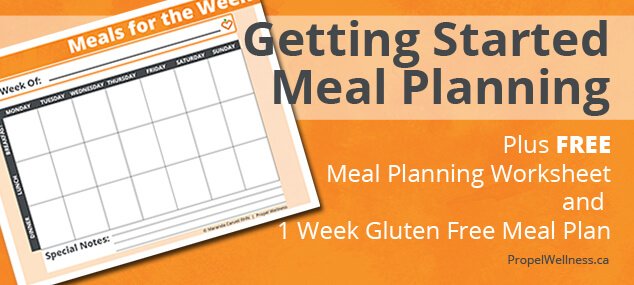 You've heard it before: If you fail to plan, you plan to fail. This concept is really no different when it comes to planning your meals for your family. By taking the time to formulate a workable meal plan, you will be able to better buy real food on a budget and save you time and sanity. This post will take you through how to meal plan with practical solutions to common questions.
"It can be a challenge to get a real food meal on the table for the family, night after night. We are all busy, and cooking takes time, and what the heck are you supposed to make anyways?
One of the best tools I have for feeding my family real food, on time and on budget (without losing my mind or spending all day in the kitchen) is the humble meal plan. It really is key, especially if you are dealing with a special diet. If you've never meal planned before you may wonder what it is, how to do it and why you'd want to. Here's the quick and dirty details on the benefits of meal planning, and how I do mine.
Benefits of Meal Planning:
Having a plan allows me to serve my kids a whole foods based diet; no scrambling at the last minute warming up processed food.
I save money by planning my meals based on what's on sale and using up what we have in the house.
I always have everything I need to make dinner on hand.
I let the kids pick an entree; they love being able to make a decision and looking forward to 'their' meal helps get them through ones that aren't their favourite.
We have less food waste because I shop with a purpose.
Dinner time is less stressful, and we eat on time.
How To Do A Meal Plan
Most people start out doing a one week meal plan. Even if you start out with a Monday-Friday plan and wing it on the week-ends, you'll still save time, money and energy. You can plan dinners only, or three meals a day depending on your needs and level of commitment. Here is my 3 step process, and what you'll need to get started.
Tools: Meal Repertoire, Master Shopping List, Flyers, Notepad (electronic or paper. as you like)
Step 1: Inventory
This is a very informal process for me. I do a quick inventory of the cupboards and freezer. I make a note of what we have a lot of, so I can choose a meal that uses that ingredient. I also note what staples we are low on. I usually bake 2-3 times a week, so I check my baking supplies too. This is a very informal process, and I'll often have the kids check while I sit and take notes. As I'm choosing my meals I'll have them check to see if we have the ingredients."