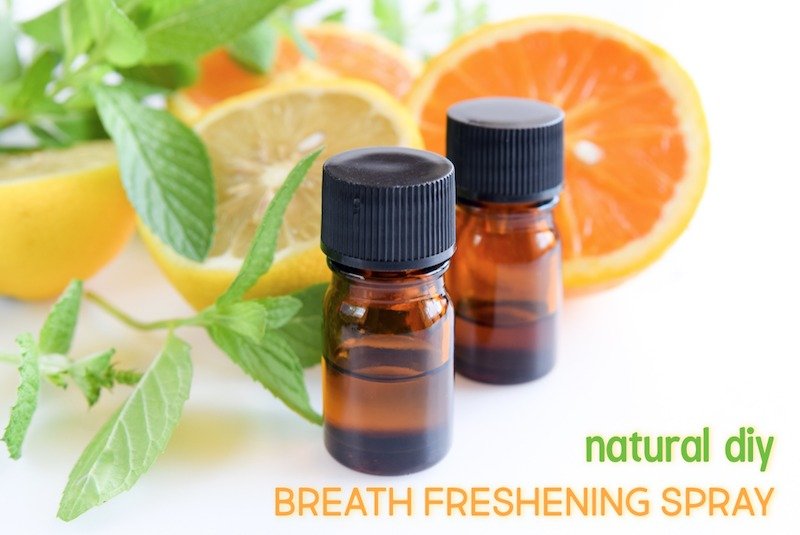 We've all had that uh-oh moment. The realization that we ran out of the house in such a hurry that we neglected to brush our teeth after a particularly pungent (but delicious) meal like scrambled eggs with roasted garlic spread. In those moments, we need a way to freshen our breath before that important meeting or that first date. That's where this natural DIY breath freshening spray comes to the rescue.
While store-bought breath fresheners may do the trick of temporarily eradicating bad breath, they are often made with synthetic ingredients that can be toxic to the body. It's hard to find gum or breath mints that are natural and that don't have chemicals, additives and fake sugar. Our mouth is the vessel to our guts and the rest of our bodies, and constantly ingesting artificial colors and other harmful ingredients can do damage over time. This breath freshening spray is about as natural as you can get.
It is perfect for your purse or car. When you feel you need some freshness added to you breath, just pull it out and give your mouth a spritz.
As a bonus, it even gives you a boost of energy.
This natural DIY breath freshening spray requires only three ingredients: wafter, honey and essential oils. While I prefer to just use peppermint on its own, there are other options you can experiment with like:
lemon
grapefruit
spearmint
cinnamon
orange
clove
peppermint
or any combination of the above!
These make fun gifts, too! I like to make these for Christmas gifts for friends and family. Along with a remineralizing toothpaste and natural mouthwash, this breath freshening spray should be in your oral health arsenal.
DIY Breath Freshening Spray
This homemade recipe is super simple and effective. We bet you'll be making it again and again!
Ingredients
Instructions
Mix ingredients in a glass measuring cup. Make sure honey is mixed well with the oils.
Pour mixture into amber glass bottles. Essential oils are preserved best in dark glass bottles and when kept out of direct sunlight, so be mindful of this.
Spray as needed to freshen your breath!
Recipe Notes
I add all of the ingredients to a pyrex measuring cup with a spout, stir, and taste it first to see if I like the balance of the oils and honey. Then, once I have achieved the correct proportions for my liking, I pour the liquid into a glass container. This may take you a few tries to get a ratio that you like best, but just keep experimenting. Once you find your perfect mixture, be sure to make note of it so you won't forget the next time you make it.
I use a small 2 ounce brown glass container, but you can choose a different size and adjust the measurements as needed.
Before each use, shake it a bit first to get the honey and oils mixed up again.
Have you ever made your own natural DIY breath freshening spray? Share this post with a fellow essential oil DIY lover!