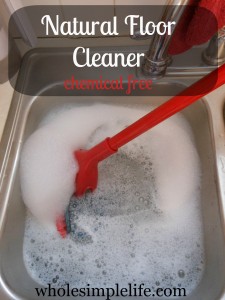 You know those strong-smelling floor cleaners you find on the shelves of your grocery? Ever looked at the ingredients? They are full of various chemicals and toxins that end up lingering on your floor. In the quest to eliminate chemicals from each room in your home, this DIY natural floor cleaner does the trick! Rest easy knowing that, throughout your home, your floors are sparkling clean yet not chemical-laden.
"I had a friend ask me recently what I use to clean my floors. This natural homemade floor cleaner recipe is awesome. I used to buy the strong, antibacterial, colorful liquid that I would dilute in the sink but in my ongoing effort to reduce the chemicals in our home and make my own homemade cleaning products, like this All Purpose Cleaning Spray and this Scouring Powder, I have switched to this easy and effective cleaner. I have tile floors in my kitchen and linoleum floors in our small bathroom so this recipe works great for both.
I wouldn't use it on hardwood or laminate floors without testing a spot first, for that I would use a mixture of 1/2 c. vinegar and 1 gallon of water and make sure you leave very little water behind.
I'm not a huge fan of the smell of vinegar so I don't use it too often in cleaning recipes but with the added soap and essential oils of your choice you don't notice the scent at all. I just cleaned my floors today and got them sparkling clean without a harsh strong chemical smell.
For the soap in this recipe you can use any dish soap you have on hand. I just use "natural" liquid dish soap at the grocery store and used it in this recipe. I've also used some from Costco and Seventh Generation Brandsoap and also Earth Friendly Brand soap. I just like to switch it up and try new soaps. Unfortunately you are not supposed to use Dr. Bronner's Liquid Castille soap with vinegar so in this recipe it's out, unless you omit the vinegar which would definitely still work."