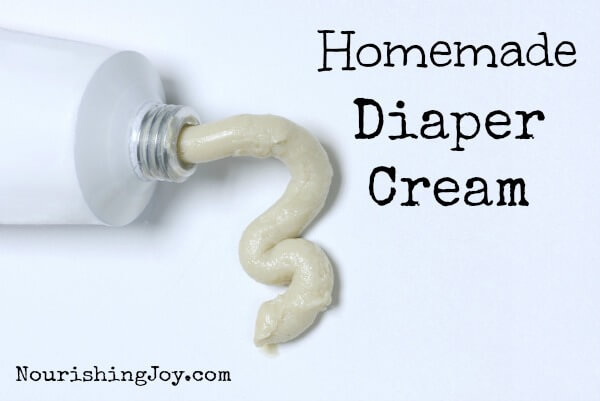 A baby's skin is so fragile and pure, yet most commercial baby products are full of chemicals and dangerous toxins (like BHA and petrolatum). Yikes! Don't settle for the products on the shelf when it comes to the wellbeing of your favorite little one(s). This easy-to-make homemade diaper cream achieves the same end as commercial diaper creams, but is truly beneficial to your child in the long-run. This homemade diaper is made with a base of beeswax and coconut oil, so it moisturizes and nourishes in a natural way!
"As usual, as part of living a natural, non-toxic life, I've gotten used to flipping over the boxes and tubes my family's personal care products come in, just to see what we're actually smearing on our skin and rubbing in our hair.
Diaper cream is no exception.
Did you know the most popular brands of commercial diaper creams include petroleum-based endocrine disruptors, including BHA, petrolatum, and methylparabens? To their credit, however, at least one brand also uses lanolin, cod liver oil, and zinc oxide!
Using that brand as a baseline, here's the recipe for homemade diaper cream that I've settled on for our family (even though I've certainly raved about using just plain coconut oil in the past).
Please note that like any homemade cream or lotion based on oils and butters, this homemade diaper cream changes texture according to temperature, so in summertime (or in any warm climate) you may want to add more cocoa butter or less beeswax, and in winter (or in a cold climate) you may want to reduce the cocoa butter or increase the beeswax."