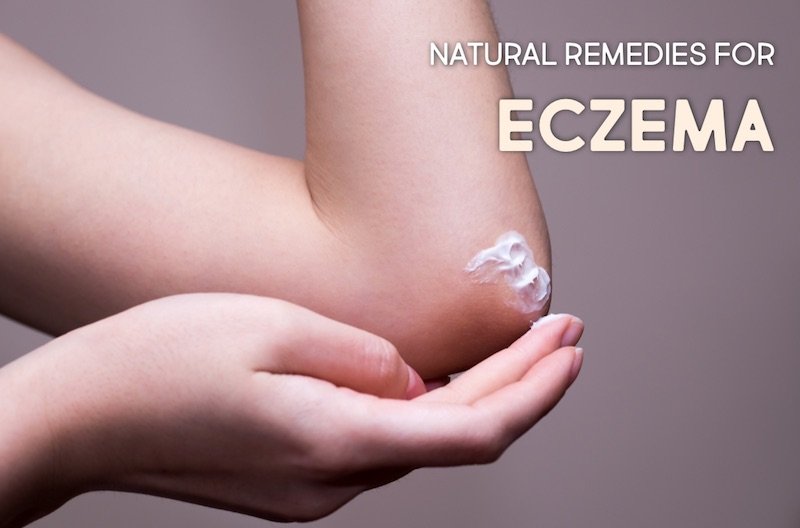 As the body's largest organ, we try to take good care of our skin. While I grew up on chemical acne treatments and lotions pumped up with artificial fragrances, I now find luxury in smearing tallow on my face, using sea spray on my skin, and reaping the benefits of coconut oil for the skin. But there are tricky skin-waters to navigate sometimes, like eczema. Eczema is an infection and inflammation of the skin that can cause painful irritation. While many people are prescribed harsh creams, there are many natural remedies for eczema that can bring relief.
What is Eczema?
The primary function of the skin is to act as a barrier. It's the body's first defense on a physical and chemical level. But the health and condition of the skin itself actually begins in the gut. If there is an imbalance in the gut, as in the case of leaky gut, this can decrease the antimicrobial properties of the skin, leaving it more susceptible to infection and irritation. In other words, gut imbalance and irritation can manifest as eczema.
Additionally, external factors like stressors can further irritate eczema. Conventional treatment often involves chemical-laden creams and steroids to address the symptoms of eczema: the rash on the skin. But they fail to address the root cause of gut imbalance.
If you'd like to try gentler solutions to eczema that address the underlying gut issues, try these natural remedies for eczema.
Natural Remedies for Eczema
1. Gut Healing Foods
Hopefully you (or your child) are already eating a nutrient-rich diet, but just in case, it's good to refocus your diet on foods that support gut health:
2. Probiotics
Another way to support the health of your gut and remedy eczema is by increasing your intake of probiotics. Probiotics (good gut bacteria) restores and repair damage done in leaky gut syndrome and can help improve the manifestation of eczema. You can increase your probiotic intake by taking a quality probiotic (like this one) and by eating fermented foods such as:
3. Magnesium
One of the biggest triggers of eczema (see more below) is stress. Magnesium is popular for its "anti-stress" effect. Magnesium encourages relaxation of both mind and body. It also has an antihistamine reaction, which helps fight inflammation. I like to make this magnesium balm and take Epsom salt baths.
4. Avoid Triggers
Along with stress, there are several dietary triggers for eczema that should be avoid:
Wheat and gluten
Eggs
Dairy
Nightshades (learn more here)
5. Apple Cider Vinegar
Raw apple cider vinegar is an astringent, and it can be a great natural solution to eczema. Dilute one part apple cider vinegar and one part filtered water and pour into a glass spray bottle. Spray on the skin several times throughout the day until you see improvement.
6. Sunshine
Those who suffer from eczema are often warned against heat and sweating, and this can trigger a flare up. But emerging research shows a connection between sunlight and certain eczema therapies:
To make matters worse, colonization of this bacteria on the skin in people with eczema (when the bacteria live on the skin but do not invade it) tends to worsen their disease, creating a vicious cycle of inflamed, itchy skin that becomes infected and then more inflamed. This is why doctors focus not only on treating a person's inflamed, irritated skin in atopic dermatitis but also on preventing and treating skin infection. The good news is that one type of treatment that may help combat both skin inflammation and infection is judicious exposure to sunlight. It's not completely clear why sun exposure helps atopic dermatitis, but one study suggests that vitamin D may play a role, as natural sun exposure leads to vitamin D production in the skin. (source)
7. Herb/Oil Ointment
While topical treatments should only follow internal changes, certain herbs and oils can help bring relief and heal irritated skin. Essential oils like lavender, chamomile, geranium, cedarwood, and helichrysum are known for their soothing properties. I like to make these eczema relief lotion bars to keep on hand for easy application during a flare-up.
8. Switch to Natural/Non-Toxic Home and Personal Care Products
Finally, many people have noticed improvement in their gut health and therefore eczema when switching to natural home and personal care products. There are so many dangerous chemicals lurking in mainstream products and they bring havoc upon our health. Here are some natural recipes for some of the best (and easiest) personal care and home products to are yourself:
Have you ever remedied eczema naturally? Share your experience in the comments below!