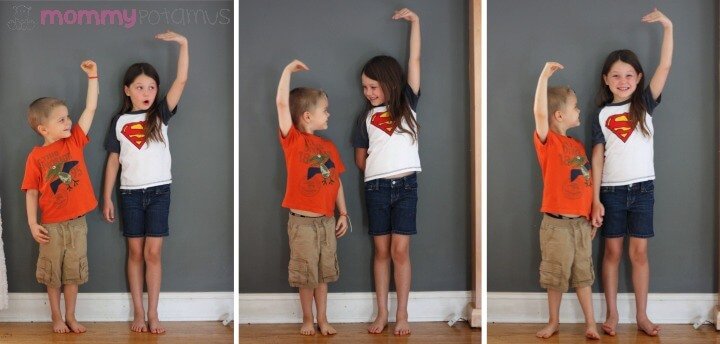 We've written before about the importance of getting enough vitamin D, the nutritional benefits of bone broth, and the soothing effects of Epsom salts, but did you know that these things can also help relieve growing pains? I remember, as a child, having terrible leg pains in the evenings when I was going through a growth spurt. It was a very real and very intense kind of pain, especially for a kid, and I know my parents just wished they could take that pain away for me. I know many of you parents and caretakers feel the same way about those kiddos entrusted to your care. So when your little ones start to feel the burden of growing, try these natural remedies for growing pains and help them experience some relief!
"Are achy legs waking your child up at night?
If the problem disappears like a bad dream in the morning, it could be growing pains. About 25-40% of children will suffer from growing pains at one point or another, usually between the ages of three and twelve. (source) And obviously parents suffer, too, because, um, sleep deprivation!
So what are growing pains, exactly? According to Dr Jennifer Barham-Floreani, growing pains are leg cramps/aches that occur "most often in the late afternoon or at night, and often wake the child from sleep." (source) Unlike other leg problems, they are not connected with any swelling, redness, tenderness, fever, limping, rash, loss of appetite, weakness or fatigue," and ironically they are not typically associated with periods of rapid bone growth. (source)
What Causes Growing Pains?
Though several studies have been conducted, no one has actually been able to pinpoint the cause of growing pains. My guess is that there probably isn't a single cause any more than there is one cause behind sore throats. In the case of sore throats, it could be too much cheering at at football game, or a viral/bacterial infection, irritated mucous membranes due to dry air, or something else.
In this post, we'll explore some of the possible causes of growing pains along with natural remedies that studies have found helpful. Spoiler alert: If your grandma recommended cod liver oil and bone broth for everything, she was on to something!
Natural Remedies For Growing Pains
Vitamin D
In a recent study, researchers found that only 6% of children who suffered from growing pains had adequate levels of vitamin D. (source) A subsequent study examined this relationship by supplementing thirty-three children affected by growing pains with vitamin D for three months. In eight children the pain resolved completely, while others experienced a significant reduction in symptoms. (source)
One theory behind why vitamin D might help is that inadequate vitamin D leads to low bone density, which places " abnormal pressure on sensory nerves of the bone." (source)
I am not an expert on this, but I think growing pains are probably most often related to nutritional deficiencies. Though it is not quite the same, I used to experience severe restless leg syndrome due to nutritional deficiencies. Nighttime is often when the body chooses to "build," so it makes sense that it's scrounging around for building materials at night – if it doesn't find what it needs easily it will sometimes "steal" from other areas. For me, this was what caused the discomfort."