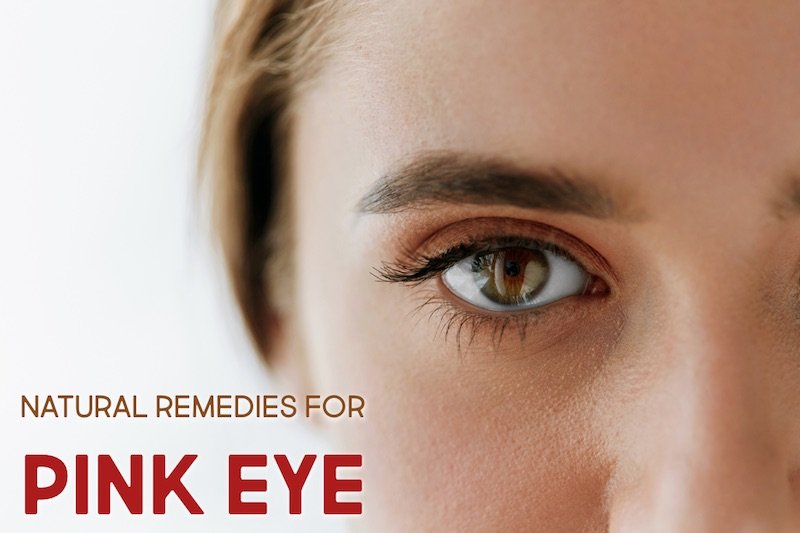 Ugh, pink eye. Like canker sores, pink eye makes basic daily functioning uncomfortable. For most of us, we have had to deal with pink eye at some point in our lives, either for ourselves or someone in our family. It can be painful and is highly contagious, but these natural remedies for pink eye can bring relief and healing quickly.
What is Pink Eye?
Pink eye can be caused by a variety of things (see below), and is characteristically marked by swollen, watery, and, of course, pinkish eyes. Pink eye can be highly contagious, so often the afflicted is kept away from other family members and given their own special pillow 😉
What Causes Pink Eye?
It's important to make a distinction between the different causes of pink eye. Most cases of pink eye are viral in nature, but bacterial pink eye and allergic pink eye are common, too.
Viral Pink Eye
From WebMD:
Viral pinkeye is often caused by an adenovirus, which is a common respiratory virus that can also cause a sore throat or upper respiratory infection. The herpes virus can also cause viral pinkeye.
Some symptoms of viral pink eye include:
reddened whites of the eyes
swollen eye lids
tearing
itching of the eyes
drainage from the eyes that is either clear or white
Bacterial Pink Eye
Bacterial pink eye is an infection that occurs when bacteria enters the eye or the area around the eye. These symptoms include:
reddened whites of the eyes
pain
swollen upper eye lid
drainage from the eye that is grey or yellow
Allergic Pink Eye/Red Eye
"Red eye," as it's commonly known can be a result of a pink eye infection but can also be a result of allergies, foreign objects in the eye, or injuries to the eye like scratches or sores. Symptoms include:
reddened whites of the eyes
dry eye or
excessive tears
swollen eye lids
Natural Remedies for Pink Eye
No matter the cause or type, these natural remedies for pink eye can bring fast relief and healing.
Cold or Warm Compress
Use whichever feels better. This is primarily for relief purposes rather than treatment. In the case of bacterial or viral pink eye, a warm compress can reduce the swelling of the eyelids. For allergy-related pink eye, a cool compress can bring the most relief and reduce swelling. Just be sure to avoid using the same washcloth consistently without washing first. If you choose the wipe/clean the eye, wipe from the inside corner of the eye (near the nose) out, avoiding repeated wiping with the same cloth.
Saline Wash
Irrigating the eye regularly with a saline (sterile salt water) wash can bring relief and help eradicate bacteria. There are some eye drops that only contain a saline wash, which makes it easy for application to the eye.
Herbal Poultice
Making an herbal poultice might sound intimidating, but it's actually quite simple. When it comes to natural remedies for pink eye, herbal tea like chamomile and calendula can be made into a poultice.
Yogurt
Just like probiotics boost your gut health and therefore your immune system to prevent and fight infection, an increase in probiotics is very helpful when fighting pink eye. You can use yogurt like a salve over your eyelid. Make sure you include the whey, as it is the most probiotic-rich part of yogurt. The cooling effect of yogurt also feel great on an inflamed eyelid.
Honey
Honey is a very useful natural remedy for a variety of ailments. It has antibacterial properties that can speed the healing of pink eye. Here's how I use it:
Heat 1/4 cup distilled water until warm. Allow to cool slightly.
Mix in 1/4 tsp honey and a pinch of Himalayan salt. Stir until honey is dissolved.
Place in a clean dropper bottle and place a few drops in the affected eye several times a day until resolved.
Apple Cider Vinegar
Swelling and irritation caused by pink eye can be mitigated by the acidity in apple cider vinegar. Here's how to use it:
Mix 1 Tbsp apple cider vinegar with 1 cup of warm water.
Dip a clean cotton ball into the mixture and wipe affected eye from the inside corner outward. It will burn at first, then you'll feel the relief. If you can stand it, let the cotton ball rest on your eye for a few seconds before wiping. You can also increase the amount of apple cider vinegar you use depending on your tolerance.
Do this upon waking and before bed each night until the pink eye is gone.
Breastmilk
Breastmilk could be called the "original superfood." It not only feeds and nourishes nursing children, but it can also be used to heal cut and scrapes, ear infections, and even pink eye. Breastmilk contains an antibody called immunoglobulin A, which prevents the growth and spread of bacteria. If you don't have breastmilk on hand, ask a nursing mother if she would be willing to donate a few ounces of breastmilk to you. If you are currently nursing, feel free to use your own breastmilk. Whenever I'm breastfeeding, I like to pump and store several bags of breastmilk in the deep freeze for instances of illness or injury like pink eye.
How to Prevent Pink Eye (and Keep it From Spreading)
Since pink eye is highly contagious, we want to do our best to prevent it from happening in the first, and to prevent it from spreading if someone you know has been affected. This tips are especially important if you live with someone who has pink eye:
wash hands
don't use eye makeup
don't wear contacts
don't share eye makeup, medicine, or contact supplies
don't share towels or pillowcases
When to Call a Doctor
These natural remedies for pink eye bring relief and faster healing most of the time. Most cases of pink eye are minor and are resolved within 5-7 days. But it might be time to call the doctor if symptoms persist or if you experience any of the following:
blurred vision
increased sensitivity to light
pain
preexisting conditions that put you at a greater risk for infection
Have you ever had pink eye? What worked for you?