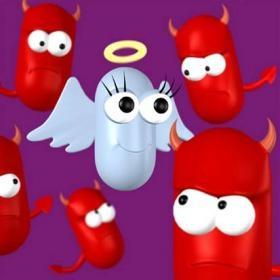 Ninety percent of the immune system function lies within the gut. Our bodies, in order to fight off infection, grow good bacteria to combat the bad. Probiotics, therefore, boost the health of our gut and in turn boost our immune systems. This post gives several suggestions of how to naturally incorporate probiotics into your diet!
"Do you know a great key to overall good health? The secret is in your gut! Ninety percent of your immune system function resides in your intestinal tract, did you know that? Our bodies naturally grow GOOD bacteria in our gut that actually HELPS our immune system, sounds odd but true! These good bugs provide nourishment and defense of the whole body, not just the digestive tract AND boost our immune system. But we need to keep a healthy level of healthy bacteria in our system and incorporating PROBIOTICS into our daily diet is our best bet!
Here are some awesome studies that I found that support the theory that PROBIOTICS improve our immune system:
"Children who receive a probiotic supplementation during winter suffer fewer infections and miss fewer school days, according to data presented at the 20th Annual Congress of the European Respiratory Society.
Professor Mario Cazzola and colleagues of the University of Rome 'Tor Vergata', Italy, presented results of a randomised, double-blind, placebo-controlled study in which a three-month daily supplementation with a probiotic mix (association of 3 well -characterised probiotic strains and a prebiotic) during the winter was able to reduce the relative risk of infection by 25%."
How much healthy bacteria do we each have? Each of us has around 100 trillion. When you have an abundance of probiotic bacteria in your gut it helps fight against colds or flu etc. This is ONE of the many disadvantages to Antibiotics. They have the ability to wipe out not only the bad bacteria that is causing the illness but also takes with it much of the good bacteria leaving our immune system more compromised. Polar opposite of antibiotics, whose sole job is to kill bacteria, probiotics are meant to stimulate the growth of good bacteria."