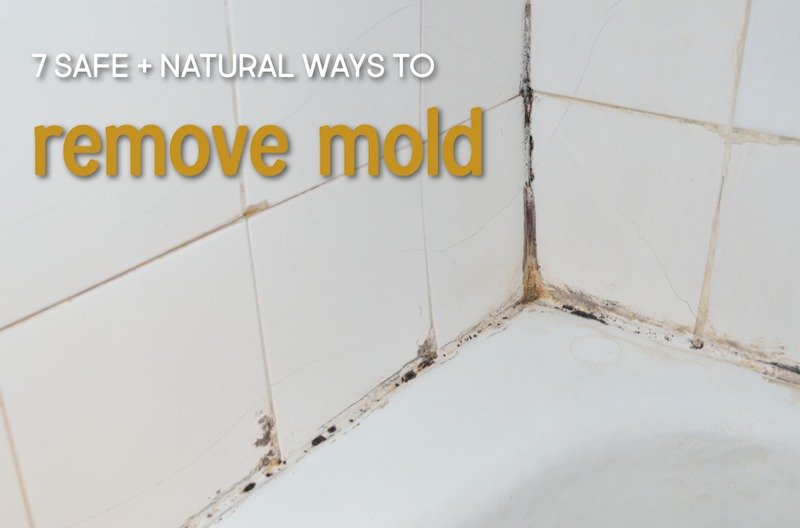 No one likes mold. Not any kind and not in any amount. I mean, the last thing we want to look at when we're taking a luxurious and relaxing bath is a moldy tile surface, am I right? There are commercial products out there that promise to remove mold quickly and efficiently, but one look at the ingredients shows that these products are saturated with harmful chemicals that rival the harmful effects of the mold itself. The good news is that you can still use natural, safe, and non-toxic substances to get rid of mold, but it's important to use the right combination to get the full effect. This post explains natural ways to remove mold and which natural ingredients can be used to fight mold and how they should be combined to reap the maximum results.
Why Natural Ingredients Work Best to Get Rid of Mold
The natural substances we suggest using here are deep cleaners known for their disinfecting ability. They are less expensive than store-bought cleaners and you can feel safe using them on important surfaces in your home life bathtubs and kitchen counters.
Additionally, we provide some preventative ideas to help keep you from having to treat heavy mold as often.
Since mold spores spread around easily as if "flying" it's best to use a wet method when removing mold. Always wear gloves when treating mold to protect your self from the mold spores. Never scrub mold, always wipe down to prevent spores from spreading.
Natural Ways to Remove Mold
If you have some basic surface mold to treat, or if you're hoping to avoid mold altogether, here are some ideas!
1. Purify the Air
Keeping the air in your home purified and free from toxins is a great way to prevent the formation of mold. You can purify indoor air with natural items and even indoor plants.
2. Use a Humidifier
Consistently using a humidifier in your home will help keep the air in your home dry, thus preventing the buildup of mold. Because that's the tricky thing about mold: it's not there, it's not there, it's not there, and then BAM! You look up and it seems that an army of mold has dispatched across your home.
3. Essential Oils
Using essential oils that are antibacterial and antiseptic helps kill mold spores. I like using:
4. Distilled White Vinegar
Ah, white vinegar. The classic budget-friendly cleaner doesn't let us down when it comes to mold! Using vinegar, especially in combination with essential oils and baking soda, is a mighty way to fight mold.
5. Distilled Ethanol
If you don't love the smell of vinegar, using any kind of distilled ethanol will work. The alcohol not only kills the mold but also dries the surface, discouraging the reappearance of mold in the future. Additionally, the alcohol is an emulsifier, making it an ideal ingredient in anti-mold mixtures and spray where essential oils are involved.
6. Baking Soda
Baking soda is naturally disinfectant, making it a great tool for killing mold and mold spores. It is also slightly abrasive, helping you remove existing mold safely. I like to mix  baking soda with warm water or distilled alcohol to make a paste for this purpose.
7. Hydrogine Peroxide
You can use hydrogen peroxide in combination with these other items, but it does just fine on its own against mold. It is a natural disinfectant that packs a powerful punch against common surface mold.
How to Prevent and Remove Mold with Anti-Mold Spray
If you're wanting a one-stop shop for your mold prevention and removal purposes, we suggest making your own anti-mold spray. You can find the recipe here.
Have you ever used natural products to remove mold? If so, what's your go-to method? Share with us in the comments!