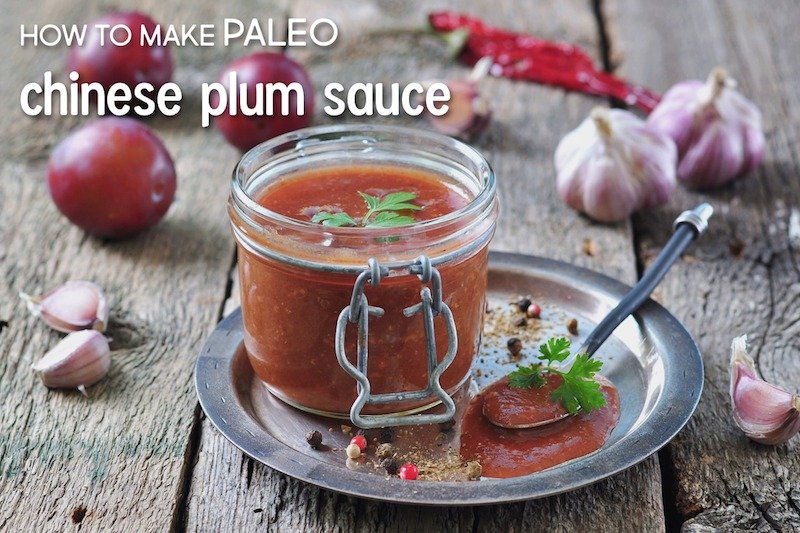 Do you love drizzling some homemade ranch dressing on everything from salads to burgers to pizza? Do you dip your fries and your turkey sandwich on sourdough in ketchup? Do you stir hot chili sauce into your eggs and soups? If you're a condiment fanatic like I am, this paleo Chinese plum sauce is for you.
What is Chinese Plum Sauce?
Chinese plum sauce has a sweet and spicy flare that tastes delicious in stir-fry and as a condiment for anything you fancy, really. From Wikipedia:
Plum sauce is a viscous, light brown sweet and sour condiment. It is used in Chinese cuisine as a dip for deep-fried dishes, such as spring rolls, egg rolls, noodles, and deep-fried chicken balls as well as for roast duck.
So really, a dream condiment. There's a reason this sauce is so addicting. The mellow sweetness is balanced by a delightful tanginess and the spices add enough depth to keep your tastebuds guessing.
A Healthier Version
I love the flavors of traditional Chinese plum sauce, but sometimes I find it a bit too sweet. It's also typically made with soy sauce and, since I avoid soy, I wanted to find an alternative that would yield the same flavor but not damage my health. This paleo Chinese plum sauce recipe is made with fresh plums, garlic, coconut aminos, honey, apple cider vinegar, and spices. It's so simple to put together. Try it the next time you need a flavor-boost for your meal!
Paleo Chinese Plum Sauce Recipe
This delicious sauce can be used as a marinade, stirred into pasta made with shirataki noodles, as a dipping sauce for spring rolls, as a dipping sauce for healthy chicken tenders, and really, can be paired with anything you'd like.
This recipe makes 1 cup of paleo Chinese plum sauce. Double if using as a marinade or if serving a large crowd.
Ingredients
1/2 lb plumbs, washed, cored, and quartered
2 Tbsp honey
2 Tbsp apple cider vinegar
2 Tbsp coconut aminos
2 cloves garlic, minced
2 Tbsp fresh ginger, finely grated
1/8 tsp sea salt
1/8 tsp cinnamon
1/8 tsp crushed red pepper flakes
1/16 tsp ground cloves
Instructions
Heat all the ingredients in a medium saucepan over medium heat, covered, for about 20 minutes, stirring occasionally, until the plums have broken down.
Transfer mixture to a blender and blend until smooth.
Allow sauce to cool to room temperature and store in an air-tight container in the refrigerator. This will last for up to 2 weeks.
Have you ever made plum sauce before? What's your favorite way to use it?