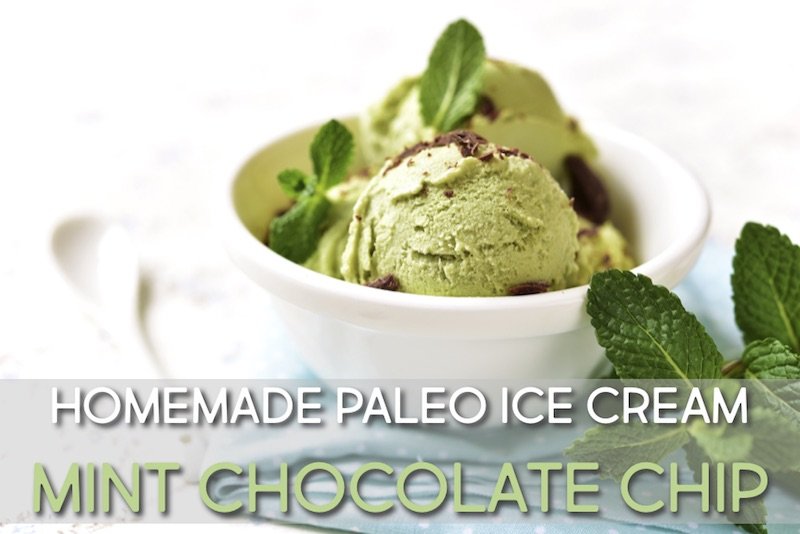 We love homemade ice cream, especially during the summer. Nothing quite spells summer like enjoying chocolate chip cookie dough ice cream sandwiches, cherry chocolate coffee popsicles, or chocolate ice cream in the backyard at the end of a long day, watching the kids play and enjoy the fruits of our ice cream labor. That's good summer living, right there. My husbands favorite ice cream is mint chocolate chip ice cream, so I'm constantly searching for healthier recipes so he can enjoy it without feeling physically bad. This paleo mint chocolate chip ice cream is made with fresh ingredients and lots of coconut products for your dose of healthy fats.
A Secret Ingredient…
This paleo mint chocolate chip ice cream ice refreshingly minty and naturally sweetened with honey.
But the secret star ingredient is this recipe is avocado. I know, I know! Avocado isn't necessarily what you think of when you think of ice cream, but hear me out. The avocado gives the mint chocolate chip ice cream its beautiful green color instead of using chemical-laden artificial coloring. It also provides a creaminess that is achieved in traditional ice cream thanks to milk or heavy cream. The avocado is what allows this ice cream to hit the ice-cream-spot while remaining paleo and real food friendly.
As a bonus, the avocado provides an abundance of nutritional benefits!
Paleo Mint Chocolate Chip Ice Cream Recipe
This recipe makes about 6 cups of ice cream
Ingredients
Instructions
Place all the ingredients in a blender and blend until smooth and completely combined.
Pour mixture into an ice cream maker and churn according the machine instructions.
When the ice cream has thickened and there is about 10 minutes left in the churning process, add the chocolate chips.
Fill metal bread pans with the ice cream and cover. Freeze for at least 4 hours before serving. Allow to thaw slightly before scooping.
Enjoy!
What's your favorite ice cream flavor?