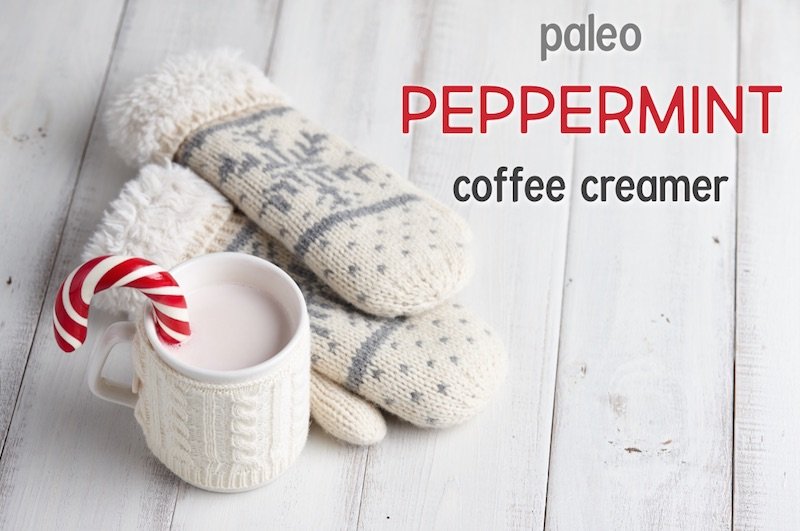 It's the most wonderful time of the year! The holidays often evoke memories of warm evenings baking with family members or shopping excursions with a warm latte in hand. If you're eating a real food diet, lucky for you, you're still able to enjoy yummy brownies, special breads, and cookies that are made with real food ingredients. Those traditions don't have to change just because your lifestyle has altered. You can also still enjoy delicious, warm, and flavorful beverages like coffee, pumpkin spice lattes, and peppermint mochas. This paleo peppermint coffee creamer is the perfect pair to your bulletproof coffee and will bring about the flavors, smells, and joys of the holiday season (or, you can enjoy it all year long, too 😉 ).
The Problem with Conventional Coffee Creamers
You don't have to look closely to see that grocery stores widely display flavored coffee creamers and various seasonal varieties this time of year. From pumpkin spice to salted caramel to everyone's winter favorite: peppermint.
While these flavored coffee creamers may promise to bring glad tidings, in reality, they bring a concoction of chemicals and heaps of fake sugar. Here are some of the harmful ingredients in most pre-made coffee creamers:
Thickeners – A common ingredient in coffee creamers is carrageenan, this thickening agent that has been connected to inflammation and issues with digestion.
Artificial Flavors – While many of the flavors of coffee creamers can be naturally achieved, many of them use artificial flavoring.
Preservatives – Have you ever noticed that your dairy coffee creamer can last for months on end? Coffee creamer manufacturers know you only use a little bit of creamer at a time, so to make their product last longer, they add mold inhibitors like dipotassium phosphate.
Artificial Sweeteners – Coffee cream manufacturers know that if our coffee creamers are sweet enough, we'll keep coming back for more. But they don't want to ramp up the sugar or calorie count, so they use artificial sweeteners like sucralose.
Hydrogenated Oils – Hydrogenated and partially hydrogenated oils are other names for trans fat.
A trans fat is a perfectly good (and healthy) fat that's forced to morph into something icky and in some ways, deadly.

Trans fats are created in a lab. Manufacturers take an oil (palm, kernel, soybean, corn or coconut oil), inject it with a metal (nickel, platinum or aluminum) and this causes the molecules of the oil to rearrange themselves. At room temperature, the end result is either a semi-solid (a.k.a. partially hydrogenated) or solid oil (a.k.a. fully or just hydrogenated).

If the fact that the oil is mixed with metal AND THEN WE CONSUME IT doesn't gross you out, the molecular structure of the oil in this new state more closely resembles plastic than oil. In fact, you only have to change one molecule in order for this "oil" to become plastic! (source)
Paleo Peppermint Coffee Creamer Recipe
This recipe for paleo peppermint coffee creamer makes about 1 1/2 cups of creamer. Feel free to double or half according to your need.
Ingredients
Instructions
In a small bowl, combine all the ingredients and stir until well combined.
Store in the refrigerator in an air-tight container (I use a mason jar with lid) for up to one week.
Other Real Food Coffee Creamer Recipes
Looking for more healthy coffee creamers like this paleo peppermint coffee creamer? Here are more of our favorites:
What's your favorite real food coffee creamer? Let us know in the comments below!