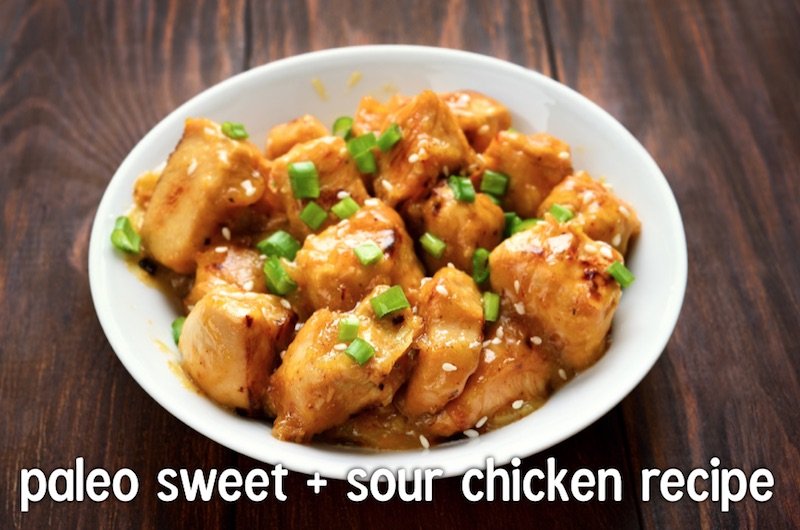 Growing up, my family loved getting takeout. We had our favorites places to chow down from on the weekends, but we also ventured out to try new cuisine in our area. While the food we were getting from those places was *ahem* less than healthy, I still occasionally have a hankering for classic takeout foods. Thankfully, I've discovered so many fantastic real food recipes that replace takeout favorites like fried rice, pizza, and spring rolls. This paleo sweet and sour chicken is at the top of the list. No more calling the Chinese restaurant down the street – you've got something better here 😉
Paleo Sweet and Sour Chicken Recipe
Most sweet and sour chicken at Chinese restaurants are filled with MSG and high fructose corn syrup, likely fried in processed oils. When I set out to find a healthy replacement, my requirements were:
Made with real food ingredients
Dairy free (while we don't always eat dairy free, we had a child on an elimination diet at the time so I wanted it to be a paleo recipe)
Simple enough to make on a weeknight (after all, part of the appeal of Chinese takeout is that it's no-fuss and convenient)
I eventually concocted this delicious meal and the entire family loved it! In place of the MSG and high fructose corn syrup are coconut aminos and honey.
I like to serve this paleo sweet and sour chicken on top of white rice or cauliflower rice. A side of simple roasted or sautéed broccoli tossed with the chicken or rice elevates the flavor even more. It's also delicious atop a bed of fresh greens for an additional nutritional boost.
Next time you crave takeout, try this simple recipe!
This recipe serves 4-6.
Ingredients
For the sauce:
For the chicken:
Instructions
In a small saucepan, combine all the sauce ingredients except the cold water and arrowroot powder. Bring to a simmer over medium-low heat. Reduce to a gentle simmer and allow to cook while you prepare the rest of the dish.
In a medium skillet, melt the coconut oil over medium heat. Toss the chicken with the arrowroot starch, salt, and pepper until all the pieces are evenly coated.
Piece by piece, dip the chicken into the egg mixture and shake off the excess egg. Place in the skillet. Repeat until all the chicken is in the skillet. Cook until the chicken pieces are cooked through, about 6-8 minutes. While the chicken cooks, stir occasionally to ensure the chicken browns evenly. Drain the cooked chicken on a paper towel.
At this point, check your sauce. It should be as thick as tomato soup. If it's too thick, add more broth. If it's too runny, add more tomato paste. Add seasoning to taste.
In a small bowl, stir remaining arrowroot powder and cold water together until combine. Pour into the sauce and allow to cook and thicken. Remove the sauce from heat and toss with the chicken.
Serve with sides and garnish with green onions or sesame seeds.
What's your favorite type of takeout?