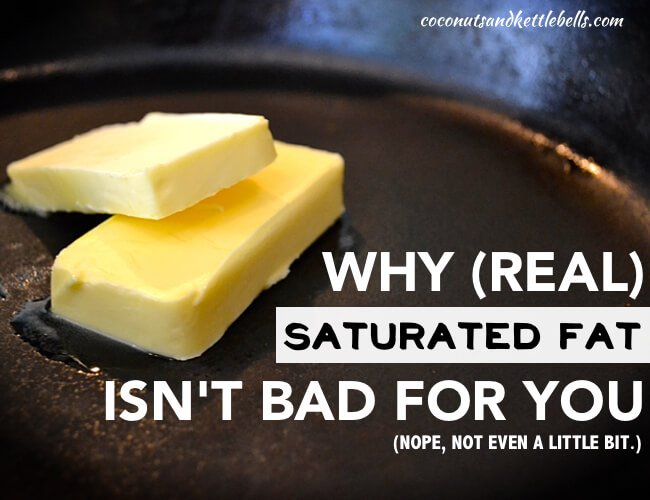 Poor saturated fat – it's gotten quite the bad reputation over the last decade or so. Fad diets have been centered around avoiding this kind of fat and now the term seems taboo. But is real saturated fat actually bad for us? Should foods like butter, coconut oil, and egg yolks be avoided at all costs in exchange for margarine and canola oil? We think you know the answer 😉  This post unpacks fantastic information about how we, as a nation, came to shun saturated fats and what has happened to our overall health since we have done so.
"Preconceived notions are ridiculously hard to change – especially ones that pack seriously profitability for some of our nations' most powerful industries. This is why, despite modern research showing otherwise, saturated fat is still seen as the hooligan causing all the trouble in our disease-ridden culture. Well, butter and coconut lovers – I'm about to become your BFF. Not only is real saturated fat not responsible for heart disease, it also plays a vital role in the 60-90 trillion cells in our body, including those that make up our brain, bones and yes, even our heart.
As a former everything-I-eat-is-low-fat-itarian, I completely understand your skepticism in believing saturated fat is healthful and not domed to clog our arteries. Instead of trying to "convince" you otherwise – my goal is to provide the information, and let you decide on a take-away. (Note: As I'm known for being an opinionated person according to my husband, mom, coworkers, and anyone who interacts me, I can't promise to be successful in this goal.)
The History: How'd We Get Here?
It all started in 1921 with the first recorded myocardial infarction (also known as heart attack) in the US. By 1930, 3,000 deaths were caused by heart attacks, and in 1960, heart attacks were responsible for the death of over half a million people.
Astounded by this new-found epidemic, scientists came up with two theories of causation: (1) the recent decline in consumption of traditionally-prepared animal fats and rapid increase in consumption of processed vegetable oils, or (2) too much cholesterol in food meant too much cholesterol in the blood which caused blockages (now referred to as the lipid hypothesis.) The later was disproven and dismissed early on with a study done by two Harvard pathologists that found no correlation between blockages and blood cholesterol levels.1″