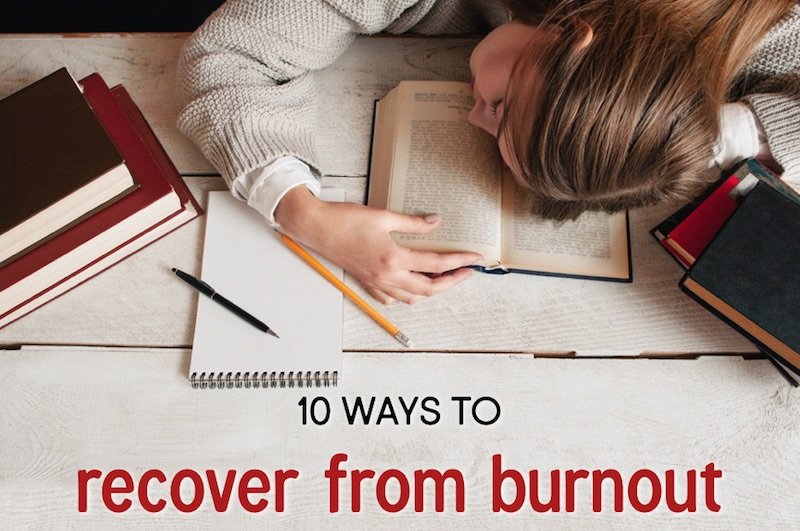 We all get overwhelmed. Our to-do lists and calendars are overflowing with endless tasks. We can feel like we're drowning. Between the demands on our time and energy, our constant stress, our toxic environments, and our lack of natural light, it's a wonder that we are able to function at all. Perhaps the constant stress is why so many of us suffer from adrenal fatigue. We just get burnt out. If you feel yourself on the brink of such despair, recover from burnout before it's too bad and enforce boundaries to prevent it from happening again.
10 Ways to Recover from Burnout
No one is immune to burnout. No matter your age, gender, family circumstance, career, or socioeconomic status, burnout is a very real possibility. Once you recognize that you're not functioning or feeling well, take the following steps to recover from burnout before it breaks you.
1. Admit it
Acknowledging the burnout is the first step. Take a deep breath and say it out loud. Tell your partner, a friend, or a co-worker. We keep many plates spinning, and sometimes we are afraid that if we admit we can't handle it, everything will come crashing down around us. But if we aren't honest with ourselves and our families, nothing will improve.
When we are completely exhausted, we may not be able to discover resolutions on our own. The simple act of letting our loved ones know how we're feeling can put into motion solutions and relief.
2. Sleep
The first thing I do to recover from burnout, after admitting it to myself and my husband, is to get more and better sleep. Sleep is foundational for health, and when we don't get quality sleep, everything else suffers. Ideally, we will be able to increase the amount we sleep at night during a season of burn out. But if your circumstances won't allow for more sleep, it's important to maximize the sleep you do get.
3. Embrace "no"
This is where things get more difficult (I mean, who is disappointed by more sleep?!). In order to recover from burnout, we have to make friends with "no." Most of us are overcommitted and this adds to our stress. Even worse, most of us are stretched thin by responsibilities that aren't necessary or life-giving. This is the time to clear the calendar. Walk away from what you can. Place value on only what is essential. Everything else can wait until a later time.
4. Accept (and ask for) help
We aren't meant to carry our load alone. Hopefully there are people in your life who are willing to help you out as you recover from burnout. Ask your spouse to bear more of work or household responsibilities. Ask a parent or babysitter to watch your children for a few hours while you take a relaxing salt bath or fit in a quick workout.
5. Hydrate
Are you drinking enough water? Proper hydration is the basis for most bodily functions:
Your body is composed of about 60% water. The functions of these bodily fluids include digestion, absorption, circulation, creation of saliva, transportation of nutrients, and maintenance of body temperature. (source)
If you're feeling run-down, chances are you're not getting enough water. Bring a water bottle with you when you leave the house, put a fresh lemon wedge in your water glass, and swap sodas, coffee, and alcohol for sparkling water to increase your intake.
6. Cut out inflammatory foods
Is there a particular food or food group that makes you feel sluggish? Gluten, dairy, and sugar are common foods that trigger inflammation and can cause brain fog and slow bodily processes. When we're already overwhelmed and exhausted, these foods can worsen the symptoms. Remove these foods from your diet, even if just temporarily, and increase your vegetable and healthy fat intake.
7. Walk outside
Fresh air and Vitamin D do wonders for our physical and mental health. I understand that adding a walk into your daily routine may feel like one more thing on your to-do list; but remember those things you're saying "no" to now? Use that time for simple self-care practices like taking a walk. Even a quick walk around the block can get your blood flowing and improve your mindset.
8. Spend time with friends
When we find ourselves in a cycle of give-give-give without taking time to rest and receive, our burnout spins out of control. Make a date with friends each week or join a bookclub. Go on a double date or meet up with other moms. Keeping contact with people we love and enjoy refreshes our minds and hearts.
9. Practice gratitude
One unfortunate consequence of burnout is that we can easily become self-centered. When we are tired and overwhelmed, we become inwardly focused on the bad, even if our life is full of good. A sure-fire remedy to any negativity we might be experiencing is the practice of gratitude. Make a point to write down three things you're grateful for each day.
10. Prioritize
Finally, make a list of your priorities. This is the best way to avoid burnout in the future, too. Physically list out the priorities in your life, in order of importance. Hang the list on your bathroom mirror, on your refrigerator, or place it in your planner. Let it serve as the constant metric by which you measure every request or opportunity that arises. If something does not align with your priorities, let it go. It might align with your priorities at another time; but while you recover from burnout, only the most important things require your attention.
What do you do to recover from burnout?