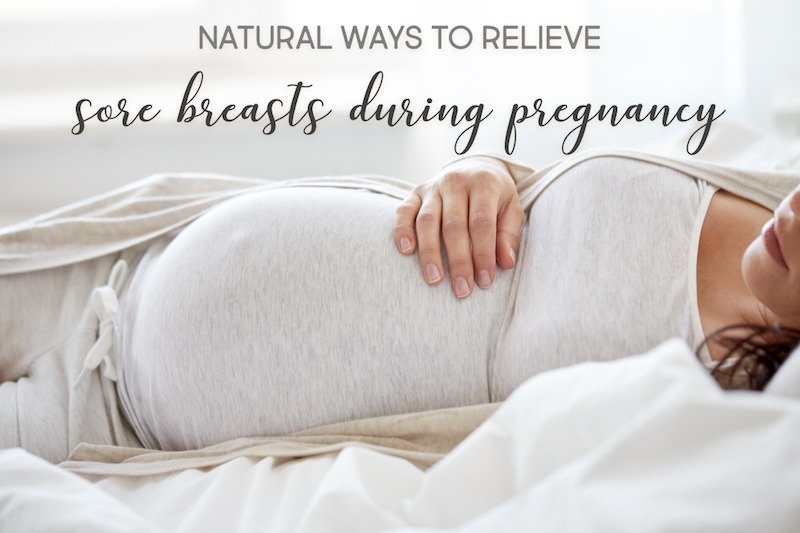 Pregnancy books tend to agree that one of the first signs of pregnancy for many women is sore breasts. For a woman trying to conceive, then, sore breasts are an oddly welcomed guest … but not for long. With all the hormones surging as the body adjusts to growing another human, things like morning sickness, heartburn, and sore breasts are common. Thankfully, these remedies can provide natural relief for sore breasts during pregnancy.
What Causes Breast Pain in Early Pregnancy?
Once conception occurs, the body begins secreting increased amounts of the hormones estrogen and progesterone, which causes the breasts to enlarge. Additionally, during pregnancy, your breasts are preparing to feed a baby. Milk glands develop, circulation increases, and the layers of fat thicken. That's a lot to handle for such a sensitive part of the body! This enlargement of the breasts can cause tenderness and pain at the touch. So while your partner may enjoy the changes, you may want anything but attention to that area.
How Sore is Sore?
Like everything in pregnancy, every woman's experience will be different. Breast tenderness can occur as soon as 1-2 weeks post-conception. It is typically more intense than the breasts pain that is common during your monthly cycle. They may feel tender to the touch. You may experience tingling. Brushing up against something, even your own shirt, can be painful. Sometimes even breathing can be uncomfortable.
But don't worry, the tenderness usually eases once you enter the 2nd trimester. But until then, here are some ways you can find relief.
Natural Relief for Sore Breasts During Pregnancy
The best way to provide relief for sore breasts is to support them properly. Here's what you need to consider:
Wear a Supportive Bra
Whether or not you typically like to wear bras, you'll likely find they are your best friend during early pregnancy. The support they provide can really diminish sensitivity. When looking for a bra:
1. Choose the right cup size
Chances are your breasts have already started changing! Even if you know your pre-pregnancy cup size, go in to be fitted again. Choose a bra with the correct measurements. You will be so glad you did!
2. Select the right kind of bra
Soft, stretchy maternity bras feel the most comfortable. Definitely choose a bra without an underwire. Cotton maternity sleep bras are great to sleep in, and they double as fantastic nursing sleep bras for when baby arrives! Wear a sports bra during exercise, as many women find breast tenderness to be more excoriating during intense exercise. Find one that leaves plenty of room to grow but still provide support.
3. Get fitted more than once through the pregnancy
Your breasts will continue to grow and you will shift sizes throughout the pregnancy. Therefore, in order to be most comfortable, you'll want to get fitted several times while you're pregnant to make sure you have the proper size.
Drink Plenty of Water
Increasing your intake of water is wise for your growing baby anyway, but the additional hydration helps flush out hormones and excess fluids, easing pressure on sore breasts during pregnancy.
Eat Nourishing Foods
Another tip that benefits the body as a whole, eating foods rich in vitamins and minerals will help reduce any excess build up in the body and prepare your body to bear the tenderness.
Decrease Salt Intake
Good salt is good for you and is a vital part of pregnancy nutrition. We simply suggest going easy on the salt while your breasts are sore. Salt can cause additional swelling and therefore more tenderness. Just listen to your body and see what works best for you.
Use a Warm Compress, Bath, or Shower
Just as a warm compress can bring relief to sore muscle, the same concept applies to sore breasts during pregnancy. Soak a hand towel with warm water and apply to breasts for up to 20 minutes. The heat increases circulation which can relieve soreness.
A warm shower can also bring relief, although some women find the pressure of the water to irritate the breasts. Give it a try and see how it feels for you. Finally, a warm bath is fantastic for relieving soreness. Just be sure to check with your provider first and make sure the water isn't too hot.
Use a Cold Compress
This may seem like a contradiction of the previous point, but a cold compress can be relieving as well. Sometimes breasts will feel swollen and hot, in which case a cold, wet towel feel fantastic. You may find yourself alternating between hot and cold compresses depending on the day!
Share with an expectant mama friend – she may be thanking you!