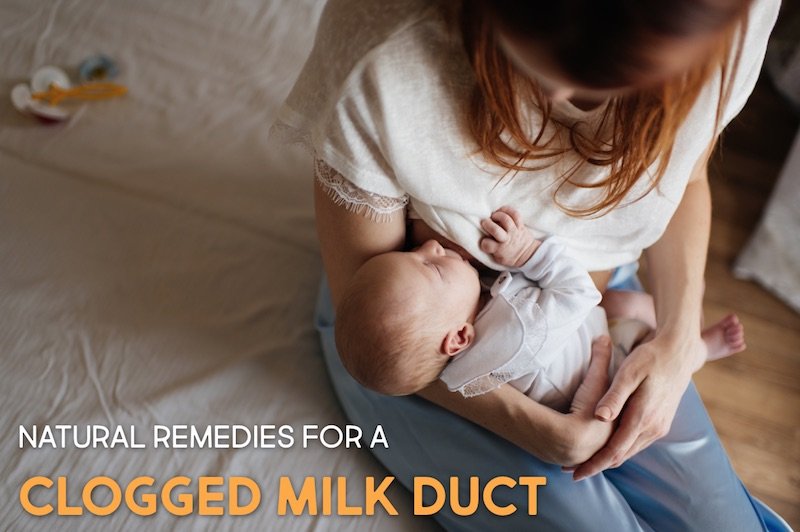 A blocked or clogged milk duct is a painful and frustrating challenge that many nursing mothers encounter. Clogged milk ducts seem to come out of nowhere and can present a hurdle for mama and baby. In order to prevent the clogged duct from turning into mastitis or another infection, it's important to release the clogged duct as quickly as possible.
What is a Clogged Milk Duct?
A clogged milk duct occurs when the breast becomes engorged and are not emptied regularly or properly.
This manifests itself in a painful hardening of the breast and the inability to release the pressure with nursing. This can be difficult for both mom and baby, who is expecting a full meal.
Why Does it Happen?
There are several causes of a clogged milk duct:
Feeding Problems – If your nursing child is going through a transition in frequency of feeding, or if your child is sick and not nursing as much, or if you are not feeding equally out of both sides, a clogged milk duct can occur.
Feeding Position – An incorrect latch, or constant feeding in the same position, can cause a clogged milk duct.
Improper Breast Care – Too much pressure on your breasts can cause blockage. Try to avoid sleeping on your stomach. Also, make sure you're wearing the healthiest and best-fitting bra.
Natural Remedies for a Clogged Milk Duct
As a nursing mama, you should be constantly aware of the condition of your breasts. Listen to your body; occasionally feel your breasts for clogged ducts. If you're feeling run-down, pay attention to the signs. The sooner you can employ these remedies, the faster the clogged milk duct will be relieved.
1. Change Up Your Nursing Position
We all have a nursing position that is most comfortable and convenient for us and baby. But when you feel a plugged milk duct, try changing positions. Your baby's jaw applies the most pressure to the breast, so aim their jaw toward the clogged duct. Always nurse from the affected breast first.
2. Take a Hot Shower + Compress
If it's not too painful, take a shower with water as hot as you can stand. Let the water hit the affected area. Use your hands to compress the clogged milk duct to try to get it to release.
3. Massage with Coconut Oil
After your shower, massage your breast with coconut oil. There are many benefits of coconut oil for the skin, and rubbing it into the breast up to your armpit can moisturize the tender skin and can help loosen the blockage.
4. Apply Lavender and Geranium Essential Oils
These two essential oils work in tandem to reduce swelling caused by the blockage and relieve it. When I get plugged ducts, I usually complete remedies 1-4 and it's resolved. The essential oils are powerhouses in this case! But if you've tried these things and are still experiencing a clogged duct, try the following.
5. Put Potatoes in Your Bra (Seriously)
This sounds so weird, but it works! Slice organic potatoes and place them in your bra. Make sure it's contacting the affected area. Leave these in your bra for an hour. At this time, you can replace with fresh potatoes immediately or whenever is convenient.
6. Consume Garlic
Garlic is an incredibly useful natural remedy, and it aids in resolving clogged milk ducts, too. When you're battling a clogged milk duct, throw some extra garlic in to your meals. But if you can handle it, the best and most effective way to use garlic as a remedy in this case is to crush a full clove of garlic and consume it. Further, it's best to do this every few hours. Adding honey, a pinch of good salt, and water can help mitigate the strong flavor and help you choke it down.
7. Drink Pineapple Juice
Pineapple contains bromeliad, which helps reduce inflammation. Drinking fresh pineapple juice can reduce the inflammation that can trigger a clogged duct and also helps prevents the formation of other plugged milk ducts.
8. Increase Your Probiotic Intake
When you're body is fighting an infection (or the genesis of an infection, like a clogged milk duct), it's important to increase your intake of probiotics. An adequate amount of good gut bacteria can help your body eradicate and recover from illness faster.
9. Rest
The last, but possibly most important, remedy for a clogged milk duct is to rest. You've done all you can to unclog the duct and to sure-up your immune system. Now, it 's time to rest. Your body is working hard to prevent infection, and you can help its efforts by getting enough rest. Of course, if you're nursing a little one, you might not be getting much sleep. Do your best to enhance the quality of the sleep you do get, and rest frequently during the day, even if that just means sitting down and putting your feet up while you read to the kids.
Have you ever remedied a clogged milk duct? What worked for you?