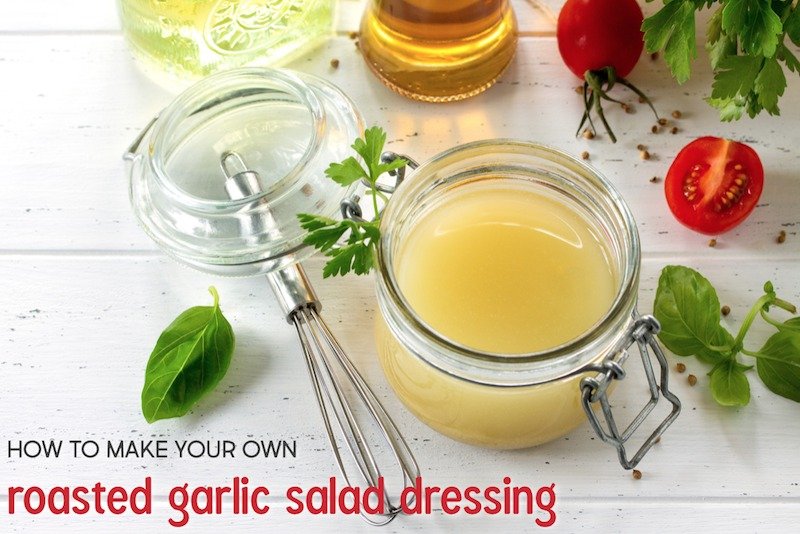 This roasted garlic salad dressing ups the expectations for all other salad dressings. By combining a simple roasted garlic spread with a few ingredients like olive oil and honey, you have a quick, homemade, delectable, and healthy salad dressing. We will warn you: the roasted garlic salad dressing may not make it to your salad – you may just eat it off the spoon 😉
Benefits of Garlic
Garlic is lauded for its immune boosting benefits. It's used to strengthen the immune system against cold and flu, remedies ear infections, and protects wounds from infection.
Now, we don't suggest rubbing roasted garlic salad dressing into your knee-scrape, but consuming garlic on a regular basis in recipes like this one will help your immune system stay ahead of the curve. For this reason, we make this salad dressing a lot during the fall and winter seasons when illness are more rampant.
Roasted Garlic Salad Dressing Recipe
It's never been so easy to make a salad dressing that people will think you slaved over all day. The roasted garlic is rich and intense, the apple cider vinegar adds a delightful tang, and the honey brings a sweetness that balances all the flavors. It's a show stopping salad dressing and would be great to serve when guests are over for dinner.
This recipe makes about 1 cup of salad dressing. This recipe will last in the refrigerator for several days.
Ingredients
Instructions
Blend all the ingredients together in a blender or food processor until completely smooth.
Serve and enjoy!
Ways to Use Roasted Garlic Salad Dressing
Roasted garlic salad dressing is not only good on salads. Like we said, you'll probably want to lick it off the spoon. Here are some other great ways to use roasted garlic salad dressing:
as a base for/stirred into scrambled eggs
on top of grilled chicken
as a veggie dip
tossed into homemade pasta
as a pork or chicken marinade
served alongside gluten free French bread
drizzled on top of baked fish
stirred into homemade hummus
as a garnish for blended soups
Do you make your own salad dressing? What's your favorite variation?