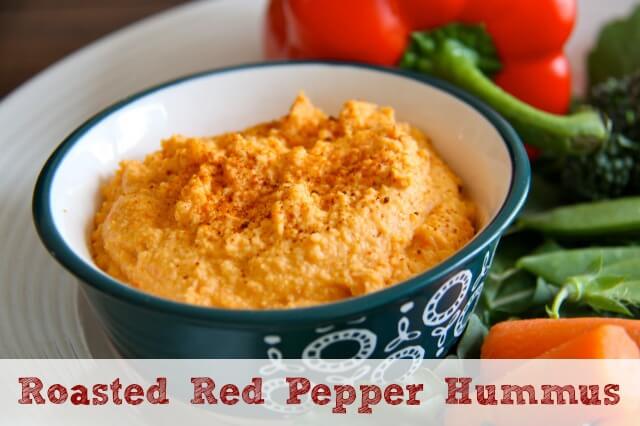 Hummus is a fabulous recipe because it can be adapted to a variety of flavors and can be used in many ways. This roasted red pepper hummus is a delicious snack (especially when paired with carrots or homemade tortilla chips) or a tarty topping on chicken or eggplant. Made with roasted red peppers (hello depths of flavor!) and healthy garbanzo beans, this is a snack you can feel good about serving to yourself and your family!
"Are your family members big snackers? You know, they say that eating several small meals or snacks throughout the day is more healthy and satisfying than eating three huge meals a day. I've found that to be true.
I'm always on the hunt for more easy, healthy and wholesome snacks that I can make from scratch for me and my family.
Simple and delicious, this homemade roasted red pepper hummus recipe is sure to please your big and small snackers alike. I first had roasted red pepper hummus from a container bought at the store but I can now tell you, as with most things, homemade is far superior. Give it a try and let me know what you think.
Roasted Red Pepper Hummus Recipe
 Ingredients
1 roasted red pepper * 2 cups garbanzo beans/ chickpeas **"