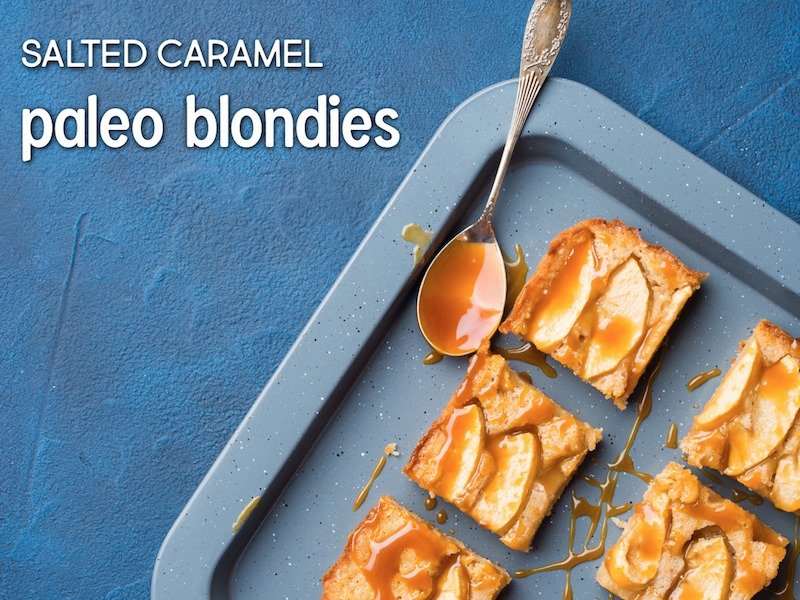 When we go out to eat at the restaurant, I'm the girl at the table who gives everyone "the look" when the waiter asks if we would like dessert. "The look" is my desperate plea to my fellow diners to jump on that dessert wagon with me – because I certainly can't be the only one who orders the triple chocolate salted caramel fudge strawberry brûlée 😉 Fortunately, I've learned to control my sweet tooth and have a little treat later at home that's been prepared with real food. Nothing tops off a victory of eating well at a restaurant than coming home to enjoy some cookie dough ice cream sandwiches, key lime pie, or chocolate popsicles. A pan of these salted caramel paleo blondies would definitely make my list.
Salty and Sweet
Like I mentioned, these salted caramel paleo blondies are not an everyday treat, but they feel like an indulgence on those days you're craving something sweet. These also make a great dessert when you're hosting company. Your guests with food allergies or preferences will appreciate the gluten free and dairy free option, while your friends without any food avoidances will never notice that they're healthier than alternatives!
The delightful combination of salty and sweet is highlighted in this recipe, taking the popular salted caramel flavors to a new, delicious level.
Salted Caramel Paleo Blondies Recipe
Salted caramel paleo blondies should be made in a 9×9 pan and will make about 12 brownies.
Ingredients
Batter
1/2 cup arrowroot flour
1 cup coconut flour
1 1/2 Tbsp cinnamon
1/8 tsp nutmeg
1/4 tsp ground cloves
1/2 cup coconut oil, melted
1/4 cup maple syrup
1 tsp vanilla extract
1 cup water, room temperature
1 Tbsp gelatin
1/2 cup organic palm shortening
2 tsp baking soda
1 1/2 tsp apple cider vinegar
flaked sea salt
Caramel
2 cups pitted Medjool dates
1/2 cup full fat coconut milk
1/2 tsp apple cider vinegar
Instructions
Place the dates in a large bowl and cover with water. Let soak for 3 hours or until the skins begin to shed. Strain the dates and peel away from the skin.
Blend together the dates, coconut milk, and apple cider vinegar. Set aside.
Preheat the oven to 350. Line your baking dish with parchment paper.
In a large bowl, sift together the arrowroot flour and coconut flour. Add the cinnamon, nutmeg, and cloves. Stir to combine.
Mix in the coconut oil, maple syrup, and vanilla.
When mixture is combined, add the cup of water and the gelatin and stir to combine. You'll notice the gelatin begin to thicken the mixture.
Stir continuously while adding the baking soda and apple cider vinegar.
Add the shortening in small chunks and stir until completely combined into the mixture. The batter should be fluffy and sticky now.
Add the batter to the pan and spread around with a spoon. Level out the batter to be about 1/2″ thick.
Spoon the caramel on top of the batter or get creative with designs!
Bake for 20-25 minutes or until golden brown on the top. Sprinkle with the sea salt and enjoy!
Note
You can get creative with these brownies and experiment with additional ingredients. Here are some we've tried and loved:
Apple slices – Thinly slice an apple and place the slices on top of the brownies before baking. This is a wonderful combination in the Fall! Pair with hot or cold apple cider for a perfect afternoon treat.
Chocolate chips – Chocolate adds another layer of sweetness to this dessert. Just be sure to lightly coat the chocolate chips with coconut flour before stirring them into the batter so that they don't sink to the bottom.
Nuts – We like walnuts or pecans for this recipe when looking for an added crunch. They become roasted and delicious in the oven and taste amazing.
What's your favorite real food dessert?