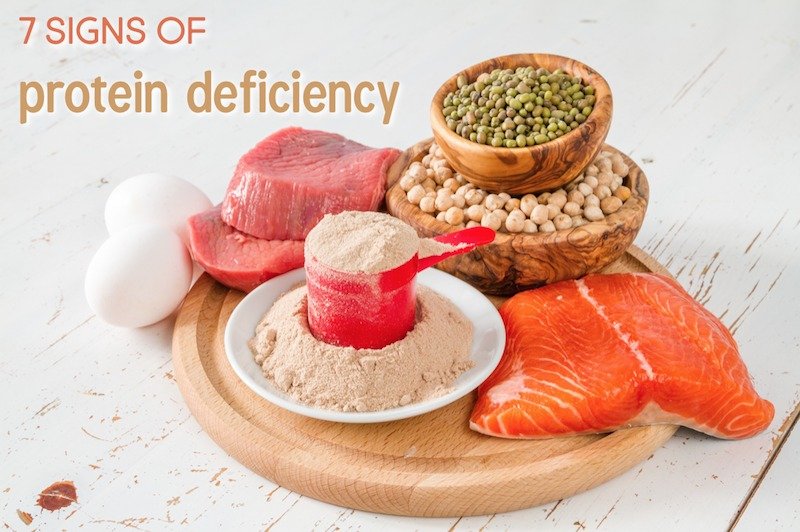 If you've been a reader of this site for a while, then you know that we are big advocates of making sure we have the proper amount of vital vitamins, minerals, and nutrients. Before, we've talked about how a vitamin D, B12, and magnesium deficiencies can knock the whole body out of whack. Today, we're exploring signs of protein deficiency and what you can do to fix it.
But first, let's look at the role of protein in the body to really understand its significance.
Why is Protein Important?
We all know protein is an important part of our diets. Although their sources and methods differ, everyone from vegans to staunch paleo-adherers know protein is necessary for a truly healthy, thriving body.
Protein is a vital component in every cell in your body. Without protein, your cells will literally not function. Our bodies use protein to build muscle and to repair damage to tissues in the body. Protein is responsible for producing hormones and enzymes and is key in building cartilage, muscle, bone, blood and even vital organs. Additionally, adequate protein levels boost metabolism and help the body burn fat. Certain proteins even determine how well we age. Maintaining good levels of the protein BubR1 will decrease your risk of experiencing cataracts, muscle deterioration, and heart issues as you age.
Even our hair and nails are mostly made of protein. Protein is needed literally from the top of your head to the tips of your toes!
Are You Deficient in Protein?
As you can see, a lack in efficient protein will influence many physiological processes. Protein deficiency can lead to problems like:
fatigue
weight gain or trouble losing weight
mood swings
pre-diabetes
difficulty learning
immune compromise
joint or muscle discomfort
7 Signs of Protein Deficiency
If you experience one or more of the following signs of protein deficiency, the good news is that the solution may be simple! Here's what to watch out for:
Trouble Sleeping
Insomnia or lesser sleep problems are often a result of blood sugar and hormonal imbalances. Those struggling to fall asleep often experience a rise in cortisol (the stress hormone) and a decrease in serotonin (the relaxing hormone). Eating protein right before bed can help your blood sugar and hormones balance properly, allowing you to fall asleep faster and deeper.
Weight Gain and Bloat
In short, protein makes you feel full. While carbohydrates can fill you up fast, they take much more energy to process and burn. Protein can help stabilize or decrease or weight. A lack of protein may also increase bloating, as the amino acids in protein are responsible for the proper functioning and contracting of your digestive system.
Anxiety or Mood Swings
This is perhaps one of the most unexpected signs of protein deficiency. Additionally, amino acids are in charge of the neurotransmitters in charge of your mood. Without protein's support of these amino acids, the neurotransmitters can "misfire," resulting in excessive moodiness and even anxiety. Protein helps the brain produce dopamine (the happy hormone) and serotonin (the relaxing hormone).
High Cholesterol
Contrary to the modern narrative, high cholesterol is not a result of eating too much bacon. It's caused by a variety of factors, including normal balance and inflammatory diets that are high in sugar or processed foods. But replacing nutritionally void foods with good sources of protein, you enable your body to balance hormones properly and thus stabilize cholesterol levels.
Irregular Menstrual Cycle
It may seem odd that protein can have such dramatic influence over the menstrual cycle, but once again, it all goes back to hormone support. Without sufficient proteins, the resulting hormonal imbalance can disrupt the release of progesterone, estrogen, and DHEA that are needed for a regular menstrual cycle.
Slower Healing or Recovery Time
It's no secret that protein helps build muscle, but did you know that protein is also necessary for the proper absorption of calcium, making it vital for bone health as well? Without enough protein, the risk for broken bones, muscles strains and sprains, falls, and even osteoporosis increases significantly.
Trouble Focusing
You're able to focus on this article you're reading thanks to the neurotransmitters in your brain releasing hormones that promote awareness and concentration. Hormones like epinephrine, norepinephrine, serotonin, and dopamine are synthesized in the brain thanks to amino acids. When amino acids are present, this process happens more smoothly. Diets rich in quality protein have been found to increase productivity, motivation, motor skills, and concentration.
Healthy Sources of Protein
The initial approach of someone wanting to increase their protein intake might be to eat as much meat as possible, but we wouldn't recommend that route. While meat is certainly one of the best sources of protein, your body will benefit most from a diet high in both protein and vegetables. Here's a list of some of the most protein-rich foods:
greens like spinach and kale
mushrooms
How Much Protein Do We Need?
In order to avoid the signs of protein deficiency, consider how much protein you actually need in order to function at your best. From WebMD:
Teenage boys and active men can get all the protein they need from three daily servings for a total of seven ounces.
For children age 2 to 6, most women, and some older people, the government recommends two daily servings for a total of five ounces.
For older children, teen girls, active women, and most men, the guidelines give the nod to two daily servings for a total of six ounces.
Have you ever been deficient protein? What source of protein did you turn to?