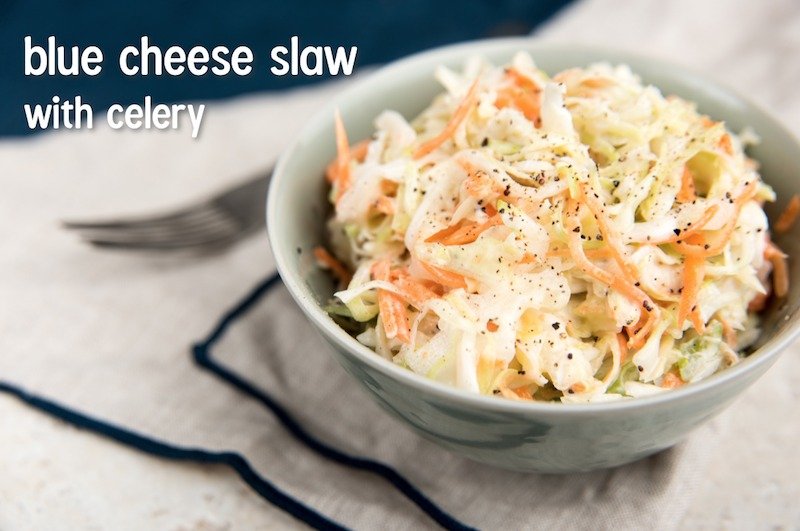 It's summertime, and for many of us, that means picnics and potlucks with friends and family. There are classic barbecue dishes like pulled pork, potato salad, and strawberry pie. These are always home-runs. But every once in a while, I have the urge to mix it up a bit by taking a favorite potluck dish and putting a different spin on it. That's how this spicy blue cheese slaw came about. My grandmother makes a delicious traditional cole slaw and her recipe is one of my favorites to make, so I took the base of her healthy slaw recipe and put an even more casual, flavorful into it.
A Healthy Twist on a Favorite Bar Food
A classic and favorite dish for many Americans is hot wings with celery and blue cheese dressing. Balancing the heat from the hot wings with the cool and smooth blue cheese dressing and the crisp and fresh celery makes for quite the edible party. But blending spicy and cool, creamy and crunchy together in one single (and healthy!) dish is even better. This spicy blue cheese celery slaw achieves that feat and presents various flavors for your tastebuds to enjoy.
Spicy Blue Cheese Slaw Recipe
This recipe makes about 8 side servings. Feel free to decrease or increase amounts as needed.
Ingredients
1/2 cup plain Greek yogurt
1/2 cup real food mayo
3 tsp hot sauce (more or less depending on taste – if you don't like much spice, start with 1 tsp and work your way up)
1 tsp garlic powder
1/2 tsp salt (or to taste)
1/2 tsp pepper (or to taste)
7 large stalks celery (with leaves), sliced thinly
3 large carrots, sliced thinly
7 scallions (white and green parts), sliced thinly
7 oz blue cheese, crumbled
1 Tbsp chopped parsley
Instructions
In a large bowl, stir together the yogurt, mayo, hot sauce, garlic powder, salt, and pepper.
Add the veggies and stir until everything is coated evenly.
Gently fold in the blue cheese. Adjust spices (salt, pepper, and hot sauce) as needed.
Garnish with parsley. Serve and enjoy!
Other Healthy Versions of Bar Foods
Craving more bar foods that won't make you feel sick? Here are some of our favorite "healthy" bar foods:
Do you like the spicy/creamy combo? Would you try this slaw?