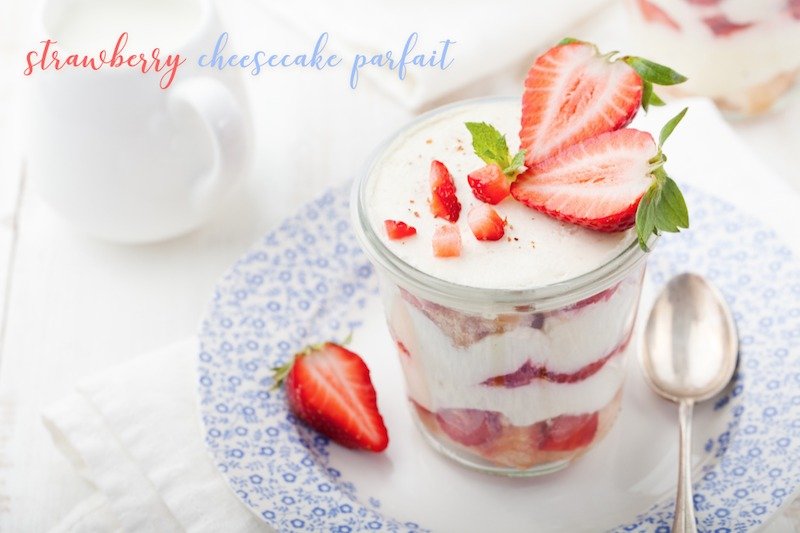 In the hotter months, we love creating and enjoying healthy summertime treats with our entire family. While dairy free ice cream and key lime pie sit at the top of our favorites list, sometimes we like to mix things up and create a dessert that is still simple but seems fancier. If we're hosting or attending a summer party, these strawberry cheesecake parfaits make a beautiful presentation and they're always a hit with a crowd. Kids and adults love these parfaits, and you can easily adapt the recipe to your own preferences.
Strawberry Cheesecake Parfaits
This recipe makes about 6 individual servings.
Ingredients
1 tsp gelatin
3 Tbsp boiling water
7 Tbsp heavy cream
8 oz cream cheese, softened
7 Tbsp whole milk
1/2 tsp pure vanilla extract
2 cups sliced strawberries
Instructions
Dissolve the gelatin in 1 Tbsp cold water.
Boil the water and pour into the gelatin mixture, stirring until the gelatin is completely dissolved. Set aside and let cool to room temperature.
Whip the heavy cream for several minutes until it forms stiff peaks. Set aside.
Whip together the cream cheese, milk, and vanilla extract until completely combined. When the gelatin mixture is cooled, whip that into the cream cheese mixture.
A little at a time, fold in the whipped cream to the cream cheese mixture. Cover and refrigerate until the mixtures begins to set, about 30 minutes. During this time, stir the mixture occasionally.
Once the mixture is chilled, use a handheld mixer to whip it until thick and creamy.
Use juice glasses to create the parfait. First, put two tablespoons of the whipped mixture at the bottom. Then, add a layer of the sliced strawberries. Repeat this to fill the glass, ending with the sliced strawberries. Garnish with a sprig of fresh mint if you wish.
Serve and enjoy!
Alternative Cheesecake Parfait Combinations
The great thing about this strawberry cheesecake parfait is that you can easily change or adjust the ingredients to play with the flavors. Just keep the base cheesecake parfait recipe the same. Here are some other combinations we've used in the past:
Use a blueberry sauce. Stir a teaspoon of gelatin into 3 Tablespoons of boiling water. Put 1 cup frozen blueberries, 2 Tablespoons of water, and a pinch of salt in a sauce pan and bring to boil. Add the gelatin mixture and boil for two minutes. Set aside and let cool. Layer with the whipped mixture from the above recipe.
Layer with nutella.
Add chia seeds to the whipped mixture.
Layer the whipped mixture with sliced bananas and toasted walnuts.
What's your favorite parfait combination? Let us know in the comments below!