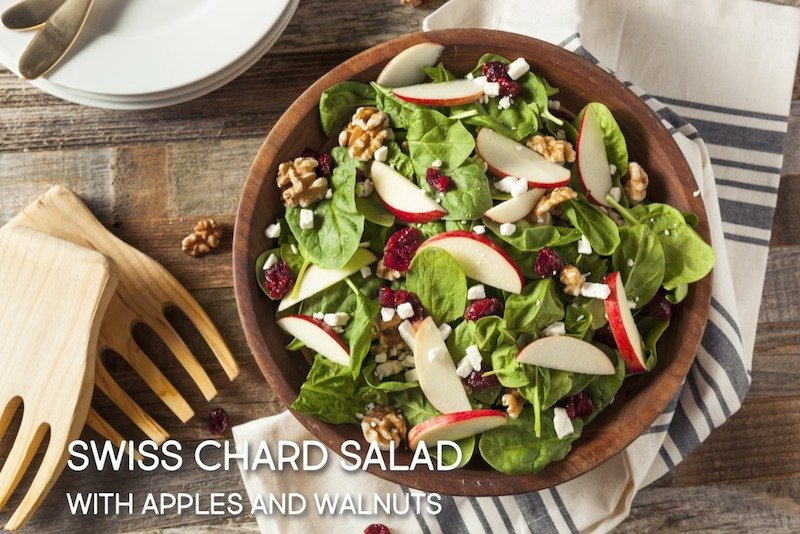 Getting a sufficient amount of nutrients from vegetables is extremely vital for your overall health, especially during cold and flu season. Salads are a terrific way to consume lots of different and beneficial vegetables in one delicious sitting. This beautiful Swiss chard salad with apples and walnuts is one of those terrific blends, combining Swiss chard, apples, walnuts, and celery for a crunchy, sweet, and flavorful blend. Topped with a simple and immune-boosting dressing, this salad has the potential to ward off cold and flu and make you feel like a million bucks!
Benefits of Swiss Chard Salad
The ingredients in this salad not only create a marvelous flavor symphony for the tastebuds, they each play a role in boosting health and the immune system.
Swiss Chard – Swiss chard provides over 300% daily value for Vitamin K. It's also an excellent source of Vitamins A and C, iron, potassium, fiber, and magnesium.
Apples – Apples are high in antioxidants and fiber and can help the body ward off illness.
Walnuts – While walnuts are known for their brain-boosting ability, they are also rich in magnesium, which is vital for proper body functions and promote sleep, a foundational aspect of our overall health.
Onions – Onions are powerhouses when it comes to eradicating illness. This post details all the benefits of onions, including helping the body overcome illness quickly.
Apple Cider Vinegar – Apple cider vinegar is known for its ability to kill bad bacteria and cleanse the gut. Apple cider vinegar can also soothe a throat sore from coughing.
Honey – Honey brings the sweetness to the dressing for this salad, and its anti-bacterial properties can boost the immune system and protect against a variety of illnesses.
Swiss Chard Salad Recipe
This Swiss chard salad is the perfect salad for cooler months. This recipe serves eight side salads, but can be duplicated to feed a crowd.
Ingredients
Salad
6 cups chopped Swiss chard
3 small apples (I like to use gala), cored and thinly sliced
2 stalks celery, thinly sliced
1/2 small onion, thinly sliced
1 cup walnuts, toasted
optional: 1/2 cup crumbled goat cheese (a delicious addition for those who can tolerate dairy)
Dressing
Instructions
In a large bowl, toss all salad ingredients together except the walnuts and cheese (if using).
Whisk together the dressing ingredients and pour over salad. Toss.
Serve in small bowls and top with cheese (if using) and walnuts.
What toppings would be your favorite on this salad? Let us know in the comments below!