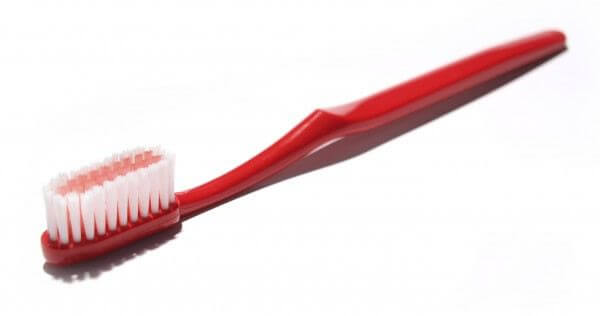 Our oral health is so vital to the overall health of our bodies, which is why we strive to take great care of our mouths. This involves the obvious brushing of teeth, oil pulling, and avoiding harmful chemicals by making our own toothpaste. But if we aren't vigilant about keeping our actually toothbrushes clean, then bad bugs, or harmful bacteria, can grow and fester on our toothbrushes (gross, right?!) and undo all the good we've done for our oral health. Fortunately, there are three easy ways to keep your toothbrush clean, and by simply taking a brief time to ensure their completion, you can be confident in the safety of your toothbrush!
"Have you ever looked at your toothbrush under a microscope?
I have and it's pretty freaky when you see all the little goobers clinging to the bristles.
Bottom line, a toothbrush is a great place for bad bugs to hang out, just waiting for another chance to recolonize your mouth.
What's required to stop your toothbrush from being a petri dish to grow bad bugs is to simply understand what environment these bad bugs need in order to thrive. By removing one or more of the conditions bad bugs need to survive, we can have the comfort to know that our toothbrushes are not acting as petri dishes.
The good news is it's really simple to clean your toothbrush and keep it free from bad bugs without having to spend any money on one of those new fangled toothbrush sanitizers.
Here are three simple strategies to make sure your toothbrush is germ free.
Getting to know bad bugs…
The bacteria implicated with gum disease are called gram negative bacteria. They are anaerobic, which simply means that they thrive in low oxygen environments.
If we had to describe the perfect zone for bad bugs, it would be a warm, dark, moist, low oxygen environment. This is why bad bugs grow so well in gum pockets.
Knowing this, we can easily remove one or more of the conditions necessary for them to live to stop our toothbrush from being a bad bug safe haven.
How to keep your toothbrush germ free…
I commonly apply two different strategies to clean my toothbrushes.
1. Let your toothbrush fully dry out between brushings.
In order to really allow your toothbrush to fully dry out before you use it again, you need to have more than one brush that you rotate through."