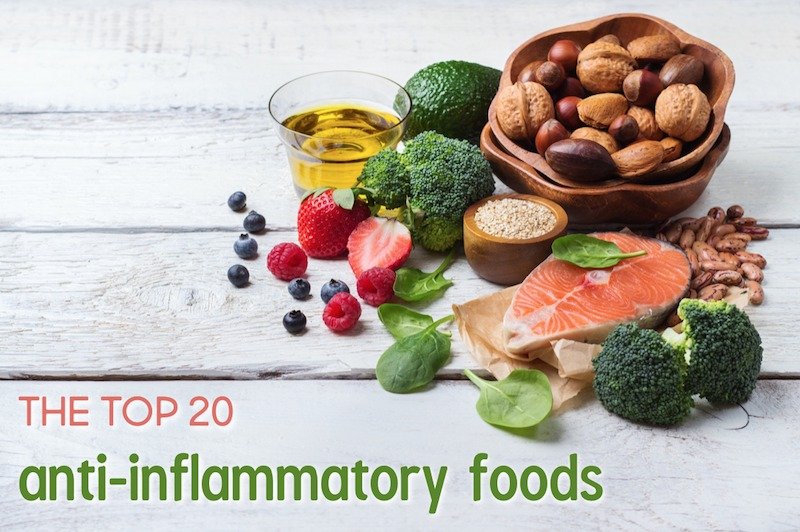 When we look at common diseases like heart disease, HBP, IBD, and thyroid disease, we see that many of them are eased by gut healing diets. This is because most disease begins in the gut and causes the inflammation that can trigger such illnesses. A clean and specific diet often helps with inflammation. These top 20 anti-inflammatory foods are a great place to start.
The Anti-Inflammatory Diet
In order to fight inflammation in the body, the first thing to do is to cease the typical American diet. Processed foods laden with sugars and artificial ingredients trigger inflammation and keep its flames burning.
When working against inflammation, it's best to eat a diet rich in:
antioxidants
healthy fats, and
vitamins and minerals
Top 20 Anti-Inflammatory Foods
If you wish to reduce inflammation in your body, try to incorporate the following anti-inflammatory foods into your diet frequently.
1. Leafy Greens
Leafy greens contain flavonoids that are rich in antioxidants that restore the health of cells. Leafy greens like spinach, Swiss chard, and kale are hugely abundant in Vitamin K (protects the brain from free radicals) and Vitamins A and C.
2. Blueberries
Blueberries are another food rich in flavonoids and are therefore ideal for fighting inflammation. Further, anthocyanin in blueberries essentially turn off inflammation on the cellular level. Blueberries are also high in Vitamin C, which promotes anti-inflammatory responses to free radicals.
3. Ginger
Ginger has the ability to break down clusters of toxins in your body, which reduces inflammation. It doesn't matter if the ginger is raw, dried, pickled, or in supplements, it's a powerful fighter against inflammation.
4. Beets
Beets are high in folate, magnesium, and betaine, a nutrient that both fights inflammation and increases metabolism. The anti-inflammatory properties of beets suppress cyclo-oxygenase enzymes that trigger inflammation in the body.
5. Broccoli
Like leafy greens, broccoli is high in Vitamin K, which helps the body regulate the body's spouses to inflammation. Broccoli also contains compounds, called glucosinolate which help prevent inflammation and eventually even decrease inflammatory mediators in the genes.
6. Dark Chocolate
Perhaps the most enjoyable of the anti-inflammatory foods, dark chocolate contains antioxidants and polyphenols which reduce inflammation. Did you know that the gut actually ferments chocolate during digestion? This process of fermentation creates anti-inflammatory compounds.
7. Salmon
The high Omega-3 content in salmon is well-known, and Omega-3s are well-known for their antioxidant properties. Additionally, the fatty acids EPA and DHA in salmon work together to reduce and eliminate inflammation.
8. Pineapple
Pineapple is outrageously high in Vitamin C, a known antioxidant. It also contains the digestive enzyme, bromelain, which relieves asthmatic symptoms and repairs muscle soreness that can eventually trigger inflammation in the body.
9. Turmeric
Turmeric is mostly composed of an anti-inflammatory component called curcumin. Studies have shown that this compound is more powerful in fighting inflammation than even the most used over the counter headache and inflammation drugs. Not sure how to incorporate more turmeric into your diet? Here are tons of ideas!
10. Walnuts
There are numerous benefits of walnuts, but one of its greatest benefits is its Omega-3 content. This provides protection against inflammation in the body.
11. Red Bell Peppers
All bell peppers are highly anti-inflammatory, but red stands out among the rest. It's high in inflammation-fighting Vitamin C and luteolin, which neutralizes free radicals that cause inflammation in the first place.
12. Bone Broth
Bone broth boasts a whole host of health benefits, and one is its ability to fight inflammation in the body. The amino acids and abundance of gelatin in bone broth heal the gut and protect it against inflammation.
13. Chia Seeds
Chia seeds offer high amounts of both Omega-3 and Omega-6 fatty acids, which balance each other out. Chia seeds also keep the body hydrated,suppress appetite, and stabilize blood sugar, which all combine to reduce inflammation. Spikes in blood sugar actually trigger inflammatory, so keeping those levels even really helps the body's efforts.
14. Coconut Oil
Coconut oil, how we love thee. Among its nearly countless benefits is its ability to fight inflammation. It's worth noting, however, that coconut oil is more likely to treat acute inflammation, like as a salve on a wound, rather than the broader inflammation produced from inside the body.
15. Flax Seeds
Flax seeds are high in Omega-3s, magnesium, and antioxidants that promote the health of cells and protect them against the free radicals that can trigger inflammation in the body.
16. Eggs
Eggs are rich in Vitamin D. Studies have shown a correlation between deficient levels of Vitamin D and an increase in inflammation. Just make sure you eat the whole egg (the yolks aren't bad for you, they're actually nutrient-dense!).
17. Garlic
Garlic is a well-beloved remedy for cold and flu, but did you know it also contains anti-inflammatory properties? Garlic stimulates proteins in the body that fight inflammation. Just be sure garlic is crushed before consuming to in order to really release those beneficial properties.
18. Apples
Apples contain probiotics, which are necessary for the body to properly use probiotics. So when you're increasing your probiotic intake in order to reduce inflammation, you'll want to also increase your prebiotic intake in order to maximize on the probiotic benefits.
19. Rosemary
The only herb to make the list of anti-inflammatory foods, rosemary contains two polyphenolic compounds, carnosol and carnosic acid, which prevent the formation of inflammation.
20. Raw Honey
Proteolytic enzymes are essential in fighting inflammation, and raw honey is rich in these enzymes. Studies have found the incorporation of honey into the diet to be beneficial in fighting and preventing inflammation in the body.
Have you ever eaten an anti-inflammatory diet? What was your experience?