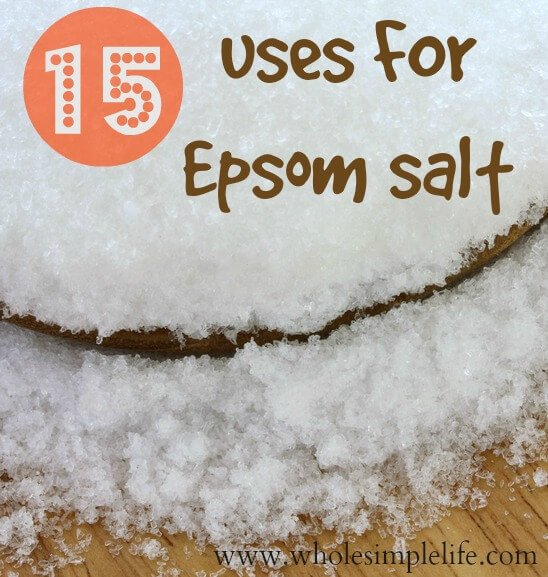 Epsom salts have gained wider popular in recent times, and for good reason. Epsom salt carries with it tremendous health benefits and can serve as a natural remedy for many-a-ailment. This post offers fifteen different uses for Epsom salt so that you can incorporate it into a wider arena of your life!
"When I first started buying epsom salt it was to add to the kids bath because I had heard that it would help calm them down before bed.
I figured hey, it's worth a shot!
When my husband saw what I had purchased he poked fun saying it was just something old people used. Well it wasn't long before he was using it too.
Look who's laughing now.
Epsom Salt is an amazing mineral compound made up of magnesium and sulfate. Magnesium is an essential mineral that scientists estimate that about 2/3 of our population is deficient in.
This is just one of the reasons why I started to use Epsom Salt in our home. As I dug a little deeper, I realized that Epsom Salt has many more uses than for just soaking in the bathtub.
Here is a list of uses for Epsom Salt so you can start using it in your home today.
15 Epsom Salt Uses
1. Relaxing Bath– I'll get the obvious out of the way first. Add 2 c. of Epsom salt to a bath and soak, which is also great for kids to help them relax before bed. Add lavender essential oil for some calming aromatherapy.
2. Sprains and Bruises– Add a handful of salt to a small container of hot water for feet and hands or 2 c. to a bath full of hot water and soak. My husband tried this when is stubbed his big toe. It was purple and green one day and within 48 hours the bruising was completely gone.
3. Splinter Removal– Add 1/2 c. of salt to a small container of water and soak splinter to assist in removal.
4. Hair Volumizer– Mix equal parts conditioner and Epsom salt and work through hair
. Let sit 20 minutes, rinse and style as usual."