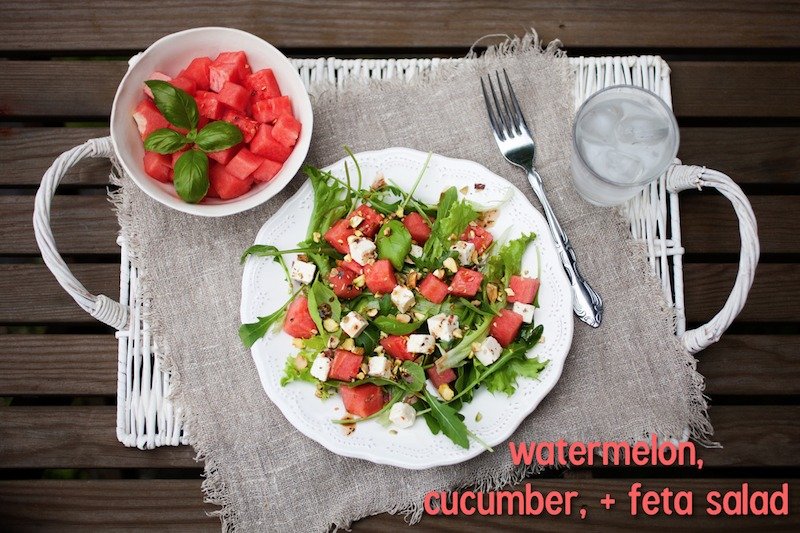 This watermelon and feta salad might seem like an odd mashup at first glance. But it's delicious! One of our very favorite things about the summer season is the CSA our family participates in. First, we love knowing where our food comes from, knowing that it's grown properly and organically. Second, each week is like a big mystery! While there are certain constants in terms of what fruits and veggies arrive, every week brings a newness of food that challenges us to stretch our cooking creativity and make dishes like creamy tarragon zucchini, spring soup, and gluten free spring rolls. Sometimes, we pretend that we are on the Food Network show, Chopped, and see who can come up with the most creative way to use the new ingredients. It's a blast. This watermelon and feta salad was born from such a challenge, and now it's a summertime favorite!
Watermelon and Feta
So why are watermelon and feta cheese such a lovely combination? The sweetness and juiciness of the watermelon presents the perfect contrast to the creamy, tangy feta. In addition, the Kalamata olives are brine-y and the cucumbers bring the perfect crunch.
All these flavors and textures are brought together with a sweet and spicy vinaigrette made with a nutritious apple cider vinegar base.
Watermelon and Feta Salad Recipe
Ready to get chopping and get eating? Here's the simple and fresh recipe!
This recipe serves six small or side salads.
Ingredients
Salad
6 cups seedless watermelon, cubed
3/4 small white onion, thinly sliced
3/4 cup pitted Kalamata olives
1/2 cup fresh dill, chopped
1 English cucumber, thinly sliced
3 oz feta cheese, chopped or crumbled
Vinaigrette
1 1/2 Tbsp apple cider vinegar
3/4 Tbsp honey
1/4 tsp sea salt
1/4 tsp freshly ground black pepper
1/4 tsp crushed red pepper flake
1/8 tsp dried mustard
1 1/2 Tbsp extra virgin olive oil
Instructions
Assemble the salad ingredients on a platter.
To make the vinaigrette, wish together all the ingredients except the olive oil. When combined well, slowly pour in the olive oil while continuing to whisk the dressing.
Drizzle the vinaigrette over the salad and toss to combine.
Serve and enjoy!
More Delicious Summer Salads
Craving more delightfully refreshing summer salads? Here are more of our favorites!
Have you ever combined unlikely ingredients successfully? Share your discoveries below!