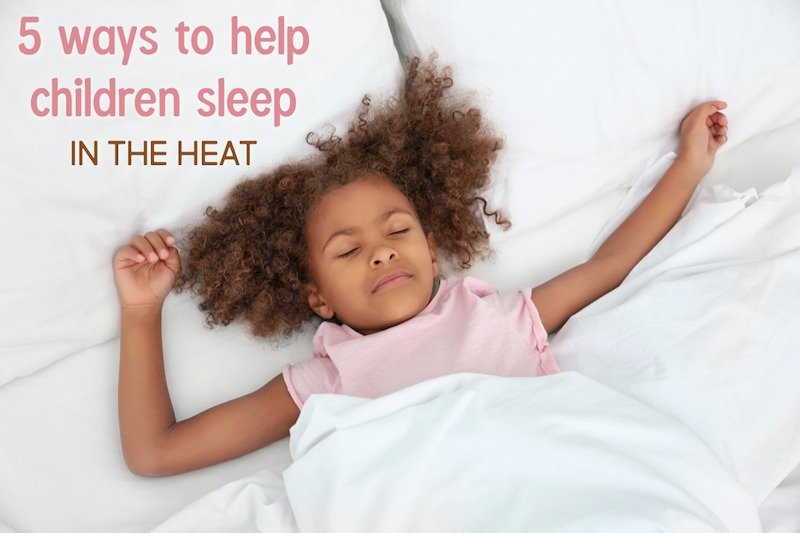 Summertime means being able to play outside for long stretches, gathering the kids on the block for a pick up baseball game, and hopefully, a huge decline in the need for the bored jar 😉 Summer can also provide some stumbling blocks when it comes to kids' sleep, however. First, parents may receive more of a pushback at bedtime since the days are longer and the kids just don't want to stop having a good time! Second, the heat and humidity (if you have it in your region), can make it more difficult for your children to drift off. If you find yourself tackling this challenge, we're here to offer some ways to help children sleep in the heat.
5 Ways to Help Children Sleep in the Heat
Here are five safe ways to help children sleep in the heat!
1. Close blinds during the day
This is one of the simplest ways to help your child sleep more comfortably in the summer heat. Close any blinds and/or curtains in the bedroom to block the sun as much as possible. Consider using blackout curtains for this purpose; they're not just good for keeping rooms dark in the early morning hours!
2. Give them a cool bath before bed
Chances are bath time is already a part of your child's bedtime routine. Not only will a bath help them settle into their nighttime rhythm, using cooler water (but not cold or uncomfortable) will safely lower their body temperature for the evening.
3. Dress them in light clothing for bed
Put away the flannel and footie pajamas. For bedtime, dress your child in lighter clothing like a cotton t-shirt and shorts. Of course, there's always the option of letting them sleep in only a diaper or underwear – but that's up to each family's preferences 😉
Another one of the best ways to help children sleep in the heat is to switch out their heavier bedding for light blankets. You child may even prefer to sleep with only a light sheet or no blanket at all.
4. Let the air circulate
Employing a ceiling fan or box fan safely in this case will help keep air flowing and help keep your child cool. This is especially helpful if a child can only sleep with lots of covers but is still burning up.
If you feel comfortable, you can even open up the windows (leaving the screen closed) to allow air to circulate even more. The summer sounds of nature may serve as an added aid to sleep!
5. Offer cool wash clothes
If your child has trouble falling asleep because they're hot, offer a cool washcloth. You can place it on their forehead, back of the neck, on the back, or anywhere that helps bring them relief.
Another option is to fill a hot water bottle with water and freeze. Using the knit covering, place the water bottle by the child's bed. If they wake in the middle of the night or if they have trouble falling asleep, they can hug or cuddle to water bottle to cool their core down. Of course, make sure your child is old enough to employ this method safely.
Another summer option …
Of course, if none of the above options work or if you're ready to embrace the summer heat, spending time outdoors is a fantastic way to go! Camping is fun for the whole family and even boasts additional health benefits. Sometimes, it's best to simply surrender to the atmospheric situation and create your own fun!
Summer heat messing with your child's sleep? Share on social media to help out other parents in the same boat!