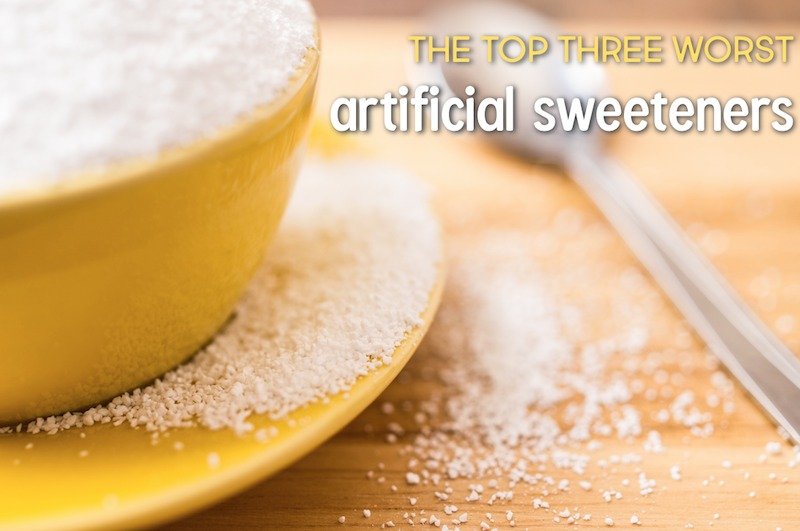 The little pink, yellow, and blue packets snuggle up to the salt and pepper shakers and keep you company when you're out to dinner. Artificial sweeteners have become so commonplace in our modern diets that they grace nearly every restaurant table, and most likely many kitchen counters at home. While carrageenan and other sneaky harmful ingredients are causes for concerns, fake sugar substitutes might be the most dangerous chemical compounds added to a vast amount of foods. The worst artificial sweeteners are lurking in more foods than you might realize.
Most Common Artificial Sweeteners
Unfortunately, artificial sweeteners wear the disguise of many different names. Often, it seems that as soon as you figure out what to avoid, the same chemicals are placed under a different name in an effort to go without notice.
The next time you go grocery shopping, be on the lookout for labels including these common artificial sweeteners:
Acesulfame potassium
Aspartame
Equal
High-fructose corn syrup
Mannitol
Neotame
NutraSweet
Saccharin
Sorbitol
Splenda
Sucralose
Sucrose
Sunett
Sweet 'N Low
Sweet One
Xylitol
Where Artificial Sweeteners Hide
Another disappointment is how often artificial sweeteners are used in food products that have little to nothing to do with sweetness, or in foods and drinks that are labeled "healthy" like:
Baked goods
Cereal
Children's vitamins
Diet drinks
Gum
Meat
Salad dressings
Snack foods (especially for children)
Yogurt
The Top 3 Worst Artificial Sweeteners
Of all the artificial sweeteners, there are three that stand out as especially horrible. The sweeteners are often touted as healthy sugar substitutes and are used in many of our shelved and manufactured foods and personal care products.
1. Aspartame
You've likely heard this word tossed around in health circles. Aspartame is a hot offender when it comes to dangerous sweeteners. It was introduced as a healthy alternative to other artificial sweeteners over 30 years ago. But aspartame does great damage to the gut, which is paramount is a properly functioning body. This is due to the way the body absorbs and processes aspartame. As Dr. Mercola explains:
The two primary components of aspartame, phenylalanine and aspartic acid, are amino acids that are combined in an ester bond. You normally consume these two amino acids in the foods you eat. These amino acids are harmless when consumed as part of natural unprocessed foods. However, when they are chemically manipulated and consumed out of the normal ratios to other amino acids, they can cause problems.

Your body initially breaks down the ester link between the two amino acids to turn them into free amino acids. The neurotoxic effects of these chemicals in their "free form" can result in immediate health consequences such as headaches, mental confusion, dizziness, and seizures.

Your body does require small amounts of these amino acids to function properly. However, the high concentration of these chemicals in the form of aspartame floods your central nervous system and can cause excessive firing of brain neurons. Cell death is also possible.

This is a condition called excitotoxicity. Your body doesn't recognize phenylalanine and aspartic acid in their free form, but your system will try to manage them through metabolization. Whenever your body tries to process an unrecognizable substance, the stage is set for health problems. The chemicals in aspartame will be absorbed by your intestinal cells, where they will be broken down into other amino acids and byproducts. A large percentage of the absorbed chemicals will be used immediately in your small intestine.
Many people have poor reactions to aspartame without even realizing it. Common side effects of aspartame consumption are:
Headache
Mood swings
Change in vision
Memory loss
Nausea and vomiting
Rash or hives
Diarrhea
Fatigue and weakness
Dizziness
Rapid changes in heart rate
Convulsions
Abdominal cramps or pain
Hallucinations
It's easy to see why aspartame ranks at the top of the worst artificial sweeteners.
2. Sucralose
Sucralose, while marketed as a healthy sugar substitute, is actually made from chlorine. Yes, the same stuff that bleaches your pool. Sucralose (Splenda) is hundreds of times sweeter than sugar and therefore creates major sugar addiction for those who consume it regularly.
3. Saccharin
Often known as Sweet 'N Low, saccharin once carried health warnings from the FDA, as it had been linked to cancers. That label was removed, however the potential dangers remain. Sadly, this top worst artificial sweetener is often added to children's medication (their medication!) and may cause nausea, and photosensitivity.
Are There Any Healthy Alternatives to Artificial Sweeteners?
So what's a sweet-tooth to do? When table sugar and artificial sweeteners are off your table, is there any hope for the occasion dessert? There is! Some healthy alternatives include:
Have you ever been hooked on one of the worst artificial sweeteners? What opened your eyes? Let us know in the comments below!