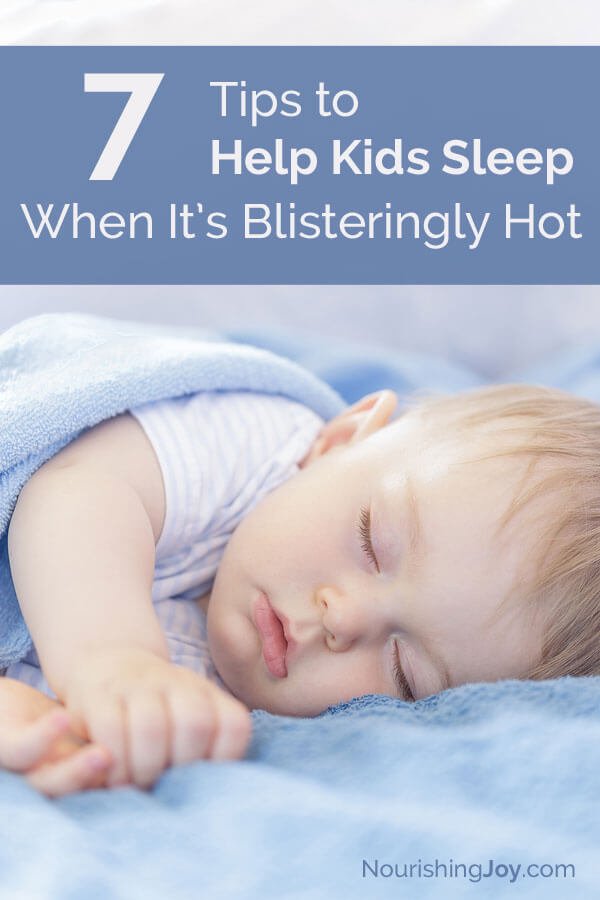 When the weather warms up, the kids (and parents) get excited, right? It means being able to play outside for long stretches, gathering the kids on the block for a pick up baseball game, and hopefully, a huge decline in the need for the bored jar 😉 Summer can also provide some stumbling blocks when it comes to kids' sleep, however. First, parents may receive more of a pushback at bedtime since the days are longer and the kids just don't want to stop having a good time! Second, the heat and humidity (if you have it in your region), can make it more difficult for your children to drift off. Here are great tips for helping kids sleep when it's hot. And good luck!
"Mom, I'm hot!"
After a long, hot day, it can be difficult to get to sleep and stay asleep, especially for kiddos who are heat-sensitive or restless sleepers.
And this is important, as a good night of sleep – including staying asleep and allowing the body to go through all the various phases of sleep – is essential for good moods and healthy growth. But if your kids are like mine, getting to sleep when it's hot outside can involve much weeping and wailing and gnashing of teeth if we haven't prepared properly for it.
Thus, here are seven tips for helping your kids get to sleep when it's hot outside. (May you all rest in peace… er, I mean…. may you all sleep well. 🙂 )
Cover any windows during the day that let light into your child's room (or the whole house). Sunlight will heat up the house quickly like it's a solar oven, so blocking out the light will help keep things as cool as possible.
Give your kids a cool bath before bed. Removing the grime and stickiness of the day, especially if it's been a day of hard play outside, will help regulate temperature and just feels SO GOOD before bedtime on a hot day. My five-year-old son especially benefits from this part of the hot-night routine.
Wear loose, lightweight pajamas and use just a sheet as covers on the bed. The point here is to allow airflow to the skin to regulate temperature, but also keep a chill off as the body sweats and becomes clammy through the night. T-shirts can be a great option too.
If the temperature outside dips below the temperature inside, open the windows at night, assuming it's safe to do so and they've got screens to keep out all those lovely summertime insects.
A great addition to this is to use fans to help move the air. Whether that's a box fan in the open window (like my parents did every night during summer while I was growing up) or an oscillating fan that blows directly on the child, fans help cool everyone off and lower the temperature of the room so that the house is as cool as possible the next morning when the house gets closed up again as the temperature outside begins to rise."